Before you buy a Mercedes-Benz G-Class in Uganda
by Edwin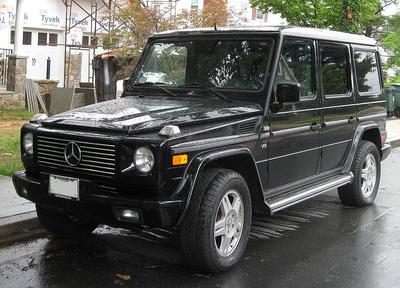 The Mercedes-Benz G-Class, sometimes called G-Wagen (short for Geländewagen, "cross country vehicle"), is a mid-size four-wheel drive luxury SUV manufactured by Magna Steyr (formerly Steyr-Daimler-Puch) in Austria and sold by Mercedes-Benz. In certain markets, it has been sold under the Puch name as Puch G. The G-wagen is characterized by its boxy styling and body-on-frame construction. It uses three fully locking differentials, one of the few vehicles to have such a feature. Despite the introduction of an intended replacement, the unibody SUV Mercedes-Benz GL-Class in 2006, the G-Class is still in production and is one of the longest produced Mercedes-Benz in Daimler's history, with a span of 35 years. Only the Unimog surpasses it.


Before you buy a Mercedes-Benz G-Class in Uganda
The Mercedes Benz G-Class (Gealende Wagen) is an authentic cross-country 4WD (Four Wheel Drive). There are 3 types of body types Short to cover 5 passengers, Long with 7 and Short-base cabrio with 5 passengers. Two types of engines are available; 3.2-Liter V6 SOHC (Single Overhead Cam) 215ps/30.6kgm (GF-G320S) and 5.0-Liter V8 SOHC 296ps/46.5kgm (GF-G500S) both gasoline powered. The transmission is 5-speed AT plus auxiliary shift mechanism with drive train 4WD (Electronic differential locking system for front, center and rear differentials). The suspensions are rigid axles with coil spring in front and rear. Dual airbags and ABS (Anti-lock Brake System) for all models.
Click
here to buy or hire Mercedes-Benz G-Class and buy car spare parts
in Uganda
Buying a foreign used Mercedes-Benz G-Class from a local Ugandan car bond
There are a number of car bonds in Uganda specifically Kampala from which you can buy your Mercedes Benz G-Class. However, you have to do good research in order to find a reputable car bond or dealer who will be able to provide you with the car that will meet your needs and above all genuinely imported into Uganda.
You need to look out for prices and discounts. Local car bonds may not charge the same prices for the same car. Prices of the Mercedes Benz G-Class may be affected by mileage of the Audi TT, condition of the car, model, and year of manufacture.
It is also very important to note that there have been numerous cases of car thefts especially from Europe in particularly from Britain. These cars have been traced up to Uganda and the buyers have fallen in trouble for buying stolen cars.
Click
here to buy or hire Mercedes-Benz G-Class and buy car spare parts
in Uganda
Importing a foreign Used Mercedes-Benz G-Class from Japan or other parts of the world
In case if you prefer to import your own Mercedes Benz G-Class from say Japan or from Europe, things change a bit. First it would require you to find a trusted dealer or seller in that regard, determine your specific car features and requirements, expected budget you plan to spend on buying the car and well calculated taxes to be paid to the tax authorities in order to clear Mercedes Benz G-Class.
It is also very important to examine the car upon arrival to check and see if all the car components are included in the car as it was shown to you before buying it. You need to watch out for car spare tires, car jack, radio, navigation systems, window power buttons among other things.
The taxes charged by the Uganda Revenue Authority include Import Duty, Value added (VAT), Withholding Tax, Environmental Levy, Infrastructure Levy, and Registration Fees basing on the CIF of the Mercedes Benz G-Class from Japan.
On arrival to Kampala, Uganda, you will have to clear the taxes at The Uganda Revenue Authority (URA), apply and pay for a number plate and then the third party license. You will also notice the some of these charges or fees differ from other vehicles.
Click
here to buy or hire Mercedes-Benz G-Class and buy car spare parts
in Uganda
General Mercedes-Benz G-Class reviews for Uganda
There's no denying that the Mercedes G-Class has a retro appeal to it. It was first sold in 1979 and the design has barely changed since then, with the turn indicators mounted on the bonnet, the bluff windscreen and the huge slab sides. A recent update added modern touches like LED lights and new trim bits but that's your lot. The interior has been changed throughout the years but only to add more leather and entertainment systems. The result is an environment that feels well screwed together but more than a little bit outdated.
With its boxy shape the G-Class does boast a very practical boot. There's a maximum of 2,250 litres on offer and the floor is can be had with a wipe clean lining, too, which makes it perfect for carrying dogs or muddy boots. The boot door itself opens sideways rather than upwards, and that means you need a great deal of room behind the G-Class to even open the boot. In the cabin, the rear seats could actually do with being a little more spacious and the car's high ride height can make it difficult to climb in and out of. For something so huge the cramped nature of the cabin will be a real disappointment if you planned on using the G-class as a plush luxury SUV.
Click
here to buy or hire Mercedes-Benz G-Class and buy car spare parts
in Uganda
Availability of Mercedes-Benz SLK-Class Spares parts in Uganda,/h3>
Whether or not the spare parts are available will greatly depend on the model of G-Class you have. Earlier models have their spares found with ease while for the latest you may be required to order for them from abroad.

Our Conclusion,/h3>
The Mercedes G-Class is a bulletproof rugged off-roader with a cabin trimmed in luxury material. However, the G-Class is poor on-road, expensive and is characterized with high running costs.

Click here to buy or hire Mercedes-Benz G-Class and buy car spare parts in Uganda