Before you buy a Mercedes-Benz E-Class in Uganda
by Edwin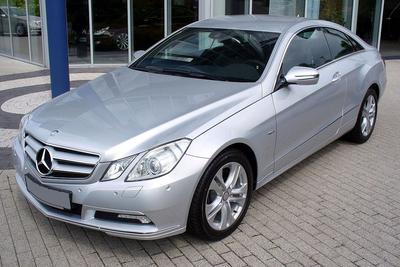 The Mercedes-Benz E-Class is a range of executive cars manufactured by German automaker Mercedes-Benz in various engine and body configurations produced since 1993, marketed worldwide across five generations.


Before you buy a Mercedes-Benz E-Class in Uganda

The Mercedes-Benz E-Class is a mid-size executive car produced since 1993. It comes in sedan, wagon, convertible and coupe form. Drivetrain options include either rear-wheel or all-wheel drive, as well as both petrol and diesel engines. Of course, the E-Class offers the usual level of Mercedes luxury and builds quality.

Click here to buy or hire Mercedes-Benz E-Class and buy car spare parts in Uganda


Buying a foreign used Mercedes-Benz E-Class from a local Ugandan car bond

There are a number of car bonds in Uganda specifically Kampala from which you can buy your Mercedes-Benz E-Class. However, you have to do good research in order to find a reputable car bond or dealer who will be able to provide you with the car that will meet your needs and above all genuinely imported into Uganda.

You need to look out for prices and discounts. Local car bonds may not charge the same prices for the same car. Prices of the Mercedes-Benz E-Class may be affected by mileage of the Mercedes-Benz E-Class, condition of the car, model, and year of manufacture.

It is also very important to note that there have been numerous cases of car thefts especially from Europe in particularly from Britain. These cars have been traced up to Uganda and the buyers have fallen in trouble for buying stolen cars.

Click here to buy or hire Mercedes-Benz E-Class and buy car spare parts in Uganda


Importing a foreign Used Mercedes-Benz E-Class from Japan or other parts of the world

In case if you prefer to import your own Mercedes-Benz E-Class from say Japan or from Europe, things change a bit. First it would require you to find a trusted dealer or seller in that regard, determine your specific car features and requirements, expected budget you plan to spend on buying the car and well calculated taxes to be paid to the tax authorities in order to clear Mercedes-Benz E-Class.

It is also very important to examine the car upon arrival to check and see if all the car components are included in the car as it was shown to you before buying it. You need to watch out for car spare tires, car jack, radio, navigation systems, window power buttons among other things.

The taxes charged by the Uganda Revenue Authority include Import Duty, Value added (VAT), Withholding Tax, Environmental Levy, Infrastructure Levy, and Registration Fees basing on the CIF of the Mercedes-Benz E-Class from Japan.

On arrival to Kampala, Uganda, you will have to clear the taxes at The Uganda Revenue Authority (URA), apply and pay for a number plate and then the third party license. You will also notice the some of these charges or fees differ from other vehicles.

Click here to buy or hire Mercedes-Benz E-Class and buy car spare parts in Uganda


General Mercedes-Benz E-Class reviews for Uganda

From the outside, the Mercedes E-Class takes styling inspiration from the larger S-Class, and it ditches its predecessor's boxy design in favour of the limousine's more svelte curves. While the design might not be to everyone's tastes, the higher-spec AMG Line model has lots of kerb appeal.

Step aboard, and the interior also takes its design cues from the S-Class, with a minimalist approach to the dashboard layout. The fascia flows across the cabin, featuring four circular air vents in the centre and, if you opt for the twin 12.3-inch displays, a high-tech bank of monitors up above featuring crisp, sharp graphics.

The E-Class is a full five seater, and although the transmission tunnel restricts room in the middle slightly, the E-Class still offers enough space for five fully grown adults on shorter journeys. That's thanks to the comfortable seats and, for the driver and front passenger, plenty of adjustment.

A softer chassis setup compared to rivals means the E-Class focuses on comfort more than sportiness, floating nicely over rippled roads. However, the big body and chunky C-pillars mean rear visibility over the shoulder isn't the best – but with features like blind spot assist available, there's enough safety tech to help out here.

The E-Class' wheelbase has grown by 65mm, meaning more room between the axles for passengers – and you can feel this inside.

Legroom is good, and the practical roofline means even taller adults won't suffer when it comes to headroom in the rear. Three big adults in the rear might feel a little tight, but it's fine for shorter journeys.

Click here to buy or hire Mercedes-Benz E-Class and buy car spare parts in Uganda


Availability of Mercedes-Benz SLK-Class Spares parts in Uganda

Whether or not the spare parts are available will greatly depend on the model of Mercedes-Benz SLK-Class you have. Earlier models have their spares found with ease while the latest it may require you to order for them from abroad.


Our Conclusion

The Mercedes E-Class is one of the best executive cars in Uganda and blends quality, comfort and tech in a stylish and come with an efficient package.

Click here to buy or hire Mercedes-Benz E-Class and buy car spare parts in Uganda