Before you buy a Mercedes-Benz CL-Class in Uganda
by edwin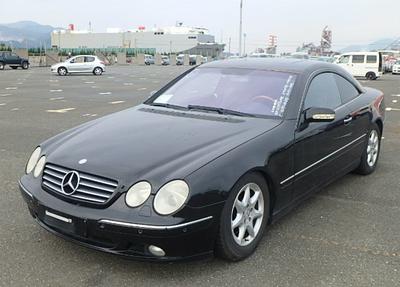 Mercedes-Benz CL-Class in Uganda
The Mercedes-Benz CL-Class is a line of full-size luxury grand tourers which was produced by the German automaker Mercedes-Benz, produced from 1992 to 2014 in the US.

The name CL stands for the German Coupé Leicht (Coupé-Light) or Coupé Luxusklasse (Coupé-Luxury).



Before you buy a Mercedes-Benz CL-Class in Uganda
MERCEDES' CL-CLASS is a line of performance coupes derived from the company's S-CLASS range of luxury sedans.
It shares the same fundamental platform but in a COUPE body style offered with a choice of either a V8 or V12 engine – both of which are extremely powerful.
Whilst the CL500 (V8) is the more widely available (GF-215375), the CL55 AMG with its even more powerful version of the same V8, is the sought after model in the range.
Whichever grade/model you opt for, all come equipped with Active Body Control Suspension.
It is such features that make this car a prestigious expensive luxury car in Uganda.
The practicing Advocates/Attorney's in Uganda really love these cars.
Click
here to buy a Mercedes-Benz CL-Class
in Uganda
Buying a Mercedes-Benz CL-Class Ugandan car bond
If you opt to buy Mercedes-Benz CL-Class from the a car bond in and around Kampala, then things could be a little bit more simpler for you because you will not have to face all the lengthy processes and journeys to the port to own the car.
Here most of the work has already been done for you. Most taxes have been cleared. All you have to do is simply pay for the car from the car bond and drive home.
However, you can also find that some cars have only cleared the CIF fees only. So it would mean that if you want a Mercedes-Benz CL-Class then you will have to clear the rest of the taxes.
You can find the CIF of the Mercedes-Benz CL-Class (that's up Kampala from Japan) to be around $ 5,000. However, the cost of the CIF can change due to year of manufacture, condition of the car, and the dealer.
In general, Mercedes-Benz CL-Class can cost you around UGX 40,000,000.
Click
here to buy a Mercedes-Benz CL-Class
in Uganda
Importing a used Mercedes-Benz CL-Class from Japan
Now this is different from buying from car from the car bond here in Kampala. Some people prefer to import their cars directly from Japan.
This means all the costs are going to be met by the owner of the car right from say Japan to Mombasa up to Uganda. Here one needs to determine the cost of the car while still in Japan from which the Cost, Insurance and Freight (CIF) are calculated. After that, arrangements are made to ship the car to Kampala, Uganda.
After arriving in Kampala, then the require taxes have to be cleared. The taxes charged by the Uganda Revenue Authority include Import Duty, Value added (VAT), Withholding Tax, Environmental Levy, Infrastructure Levy, and Registration Fees.
When all this is done, then you are free to drive home in you Mercedes-Benz CL-Class…
Click
here to buy a Mercedes-Benz CL-Class
in Uganda
Common Problems Owners of Mercedes-Benz CL-Class face while in Uganda
One of the major problems faced by owners of the CL- Class is that few people here have the technical knowledge to repair the car.
Most of the mechanics in Uganda are well versed with Toyota vehicles. Secondly, spare parts are a bit costly.
So you ought to have some good amount of disposable income to own a Mercedes-Benz CL-Class in Uganda.
Click
here to buy a Mercedes-Benz CL-Class
in Uganda
Other alternatives available in Uganda similar to the Mercedes-Benz CL-Class
Some of the alternatives that match the CL-Class include Audi A4, Volvo S60, Lexus IS, and BMW 3 Series.
My Final Verdict for this Ugandan Car
It really does depend on what you're looking for in a compact executive car. Feel like the Mercedes-Benz CL-Class is one ride you love, then go ahead and get yourself one…
Click
here to buy a Mercedes-Benz CL-Class
in Uganda