Before you buy a Mazda Demio in Uganda
by edwin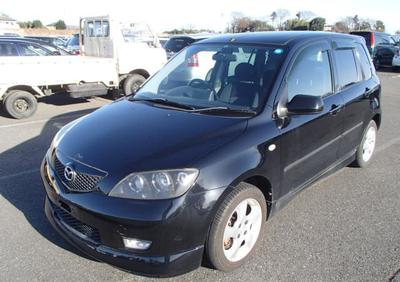 MAZDA DEMIO

The Mazda Demio is a supermini manufactured and marketed globally by Mazda since 1996, currently in its fourth generation. The Demio is marketed prominently as the Mazda2 and under previous nameplates including Mazda 121, Mazda Metro and Ford Festiva Mini Wagon.


Before you buy a Mazda Demio in Uganda
The Mazda Demio is a supermini car produced and manufacturer by Mazda since 1996. The Mazda Demio provides excellent fuel economy, yet is still fun to drive. It offers superb handling and a tight turning radius. It is also known for requiring little maintenance and being extremely economical. It's no wonder the Mazda Demio won the 2008 World Car of the Year award.
Click
here to buy a Mazda Demio
in Uganda
Buying a Mazda Demio from a car bond in Uganda
Buying a Mazda Demio from the bond in Uganda could be a lot simpler and less stressing as compared to someone who would go through the hassle of going all the way to Japan, looking for a vehicle, shipping, transporting it to Uganda and finally registering it fully. In this case of the bond, almost everything is done for you. One just has to simply pay for the vehicle and drive home. Car bonds try so hard to make sure their customers meet less bureaucracy involved in buying and owning the car as these clients will again be taken away by their competitors.
Getting to the price of the vanguard in some of the popular car bonds will largely depend on a number of factors like mileage of the vehicle, general condition of the car(damages on the car), dealer selling you the car(usually offer different prices), year of manufacture, your bargaining power among other factors. Generally the Mazda Demio will cost around UGX 15,000,000 to UGX 20,000,000. However, cheaper prices can be got in the market especially from the owners who have used them locally and they are still in good condition.
Importing a used Mazda Demio from Japan
Now this is a different scenario. One will have to either order the vehicle online or physically fly to Japan and buy the car and personally organize its importation to Uganda. This means all of the costs are going to be met by you the owner of the car right from say Japan to Mombasa up to Uganda. Here one needs to determine the cost of the car while still in Japan from which the Cost, Insurance and Freight (CIF) are calculated. After that, arrangements are made to ship the car to Kampala, Uganda. After arriving in Kampala, then the required taxes have to be cleared. The taxes charged by the Uganda Revenue Authority include Import Duty, Value added (VAT), Withholding Tax, Environmental Levy, Infrastructure Levy, and Registration Fees. When all this is done, then you are free to drive home in your Mazda Demio.
Click
here to buy a Mazda Demio
in Uganda
General Mazda Demio reviews from current and previous owners
The first and second generations of the Demio were known for their cheap interiors. While the 2008 Mazda Demio continues to feature an interior that is a minimalists dream, it is far from cheap. Mazda has incorporated ample amounts of faux chrome and backlighting to give the interior of the third generation a modern feel that counteracts its minimalism.
The compact gauge cluster is front-and-center, never causing the eye to wonder from the road ahead, nor distracting the driver's concentration. The seats, while most commonly clothe covered, are sturdy and comfortable. The passenger space offers multiple storage areas. Even when upgraded with a navigation system, the interior of the Demio is spartan, yet functional in every detail, embodying a traditional fuel-sipper.
The 2008 Mazda Demio for example, also known as the Mazda2 in non-Asian markets, is an intuitive, agile supermini that Mazda has poured its heart and soul into. Refusing to bend to the common mythos that an inexpensive fuel-sipper should be made inexpensively, Mazda has gone to great lengths to create a car that is as fun to drive as it is to look at.
Click
here to buy a Mazda Demio
in Uganda
Common Problems Owners of Mazda Demio complain about in Uganda
Apart from the common and minor problems like suspension bushes, shock absorbers, the Toyota Vanguard does not have many reported complaints. There is also a problem with the lower steering column which caused the steering to feel "notchy/lumpy" at parking speeds.
Other alternatives available in Uganda similar to the Mazda Demio
Ford Fiesta 1.5L Sport, Honda Jazz 1.5L i-VTEC, Peugeot 208 5-Door,2015 Mazda 2 Skyactiv Sedan, Volkswagen Polo Sedan CKD, Honda City 1.5L i-VTEC, Toyota Vios and Toyota Vitz
Click
here to buy a Mazda Demio
in Uganda
Final Verdict
Mazda Demio is the perfect car for drivers who want above average fuel economy, but want responsive acceleration. Now you have the information you need to make a better informed decision when buying your next car.