Before you buy a MAN Truck TGX 18.680, V8 in Uganda
by edwin,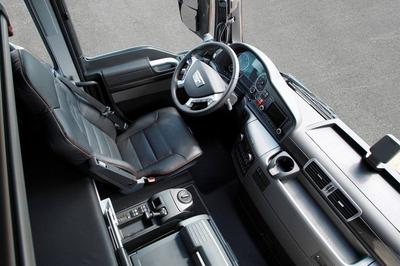 MAN Truck & Bus AG (formerly Nutzfahrzeuge AG MAN) is the largest subsidiary of the MAN SE corporation, and one of the leading international providers of commercial vehicles. Headquartered in Munich, Germany, MAN Truck & Bus produces vans in the range from 3.0 to 5.5 t gvw, trucks in the range from 7.49 to 44 t gvw, heavy goods vehicles up to 250 t road train gvw, bus-chassis, coaches, interurban coaches, and city buses. MAN Truck & Bus also produces diesel and natural-gas engines.


Before you buy a MAN TGX 18.680, V8 truck in Uganda
MAN trucks are considered by many the best option for long haul heavy duty transportation. The TGX is the biggest truck in the manufacturer's lineup and has received its latest upgrades in 2007. It is hard to find a perfect truck and all models have both strong and weak points. Compared to its 44 tonnes rivals from Scania and Volvo, the TGX V8 range of engines is weaker while the overall build quality is also inferior. However, the TGX offers one of the biggest and comfortable cabs in the segment and its engines are very efficient. Moreover, the reliability factor and the low cost of maintenance are also worth to be mentioned. The MAN TGX is available in three cab designs - XL, XLX, XXL - and three axle configurations - 4x2, 6x2 and 6x4.
Click
here to buy or hire MAN TGX 18.680, V8 truck and buy car spare parts
in Uganda
Buying a foreign used MAN TGX 18.680, V8 truck from a local Ugandan car bond
You can find car bonds in Uganda specifically within Kampala from which you can buy your MAN TGX 18.680, V8 truck. There also some car bonds that can avail you with strong hauling trucks in Uganda like the MAN TGX 18.680, V8 truck. However, you have to do good research in order to find a reputable car bond or dealer who will be able to provide you with the truck that will meet your needs and above all genuinely imported machinery into Uganda. You also to make sure that that the equipment has been thoroughly inspected, expertly repaired and backed by extended coverage options so that you're assured of the highest quality, productivity and availability.
You need to look out for prices and discounts. Local car bonds may not charge the same prices for the same car. Prices of a MAN TGX 18.680, V8 truck may be affected by mileage of the car, condition of the car, model, and year of manufacture.
A MAN TGX 18.680, V8 truck in perfect condition can have a price of around USD 60,000 that is 250,000,000 Ushs.
Importing a foreign Used MAN TGX 18.680, V8 truck from Japan or other parts of the world
In case if you prefer to import your own MAN TGX 18.680, V8 truck from say Japan, things change a bit. First it would require you to find a trusted dealer or seller in that regard, determine your specific car features and requirements, expected budget you plan to spend on buying the car and well calculated taxes to be paid to the tax authorities in order to clear MAN TGX 18.680, V8 truck.
It is also very important to examine the car upon arrival to check and see if all the MAN TGX 18.680, V8 truck components are included in the Backhoe Loader as it was shown to you before buying it. You need to make sure all the components are attached as you saw it before buying it.
The taxes charged by the Uganda Revenue Authority include Import Duty, Value added (VAT), Withholding Tax, Environmental Levy, Infrastructure Levy, and Registration Fees basing on the CIF of the MAN TGX 18.680, V8 truck.
On arrival to Kampala, Uganda, you will have to clear the taxes at The Uganda Revenue Authority (URA), apply and pay for a number plate and then the third party license.
Click
here to buy or hire MAN TGX 18.680, V8 truck and buy car spare parts
in Uganda
General MAN TGX 18.680, V8 truck reviews for
Looking at the design and interior, the rough exterior is matched by an equally manly cabin. Hop inside and you'll find a nice place to be in. Even is the build quality is not as good as a Volvo FH or Mercedes Actros the fittings look durable.
Unlike most of the European trucks, MAN didn't choose a wrap round dashboard for its cab and the TGX is fitted with a conventional one. There are few buttons and knobs adorning the center stack, and the dashboard materials are mostly of the hard plastic variety.
We're happy to notice that the decision to use a conventional dash didn't affect the overall ergonomy. Moreover, we dare to say that the ergonomy is even better than what you'll find in the Iveco Stralis or Volvo FH.
Ride and handling. The MAN TGX offers a wide variety of suspension possibilities from leaf/leaf through leaf/air to full air. Rugged and weight-saving leaf suspension with parabolic springs and specially attuned shock absorber and stabilizer scores high through good roll stabilization and track-keeping.
The electronic air suspension control ECAS ensures a uniform driving level, regardless of the load. For precise adjustment of frame height the chassis can be lowered by 90 mm from the driving level and raised by 190 mm.
All suspension setups offer a good ride and a competent handling. The steering is power assisted and can deal with most of the turning situations with ease providing a good feel.
The stopping operations are kept under control by means of the engine brake and a full air service system combined with all round discs. The brake pedal offers a good "bite" even when it's pushed softly, stopping the truck in no time.
Click
here to buy or hire MAN TGX 18.680, V8 truck and buy car spare parts
in Uganda
Availability of MAN TGX 18.680, V8 Truck Spares parts in Uganda
MAN TGX 18.680, V8 spares are readily available in Uganda. Go to any major truck garage and you will be assisted with the any service you need. However, should you find that you can't find the spares you need, then you may have to import or order for them abroad in particular Europe.
Our Verdict
The MAN TGX offers a good balanced between price and performances. Even if it's not the most luxurious truck in its segment, the TGX is strongly build and has a few winning cards hidden in its sleeve.
Click
here to buy or hire MAN TGX 18.680, V8 truck and buy car spare parts
in Uganda