Before you buy a KIA SORENTO in Uganda
by edwin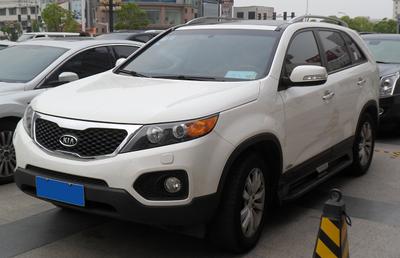 KIA SORENTO in Uganda
The Kia Sorento is a mid-size crossover SUV (mid-size SUV in its first generation) produced since 2002 by the South Korean manufacturer Kia Motors.


Before you buy a Kia Sorento in Uganda
The brand name KIA means "rising out of Asia". KIA Motors Corporation was founded in 1944. It is the oldest manufacturer of motor vehicles in Korea and now a division of the Hyundai-Kia Automotive Group. It begins to make motorcycles in 1957 and trucks in 1962. KIA established partnership with Mazda in 1970 and Ford 1986.
Today KIA is a big company and produces 1.5 million vehicles a year.
The KIA sorento has become popular one of these days on the roads of Uganda. This new breed of mid-size crossover SUV has proved its worth especially its slick design made for the modern trend.
You with find this Car in Uganda police, judiciary and other government departments.
On the other hand highly paid corporates have also found this Car stylish and trendy hence buying it for commuting to and fro work.
Click
here to buy a KIA Sorento
in Uganda
Buying a Kia Sorento from a Ugandan car bond
Buying a Sorento from the bond in Uganda is one of the best ways you can acquire the car with ease. This is because most of the work was done for you by the bond owner.
You don't have to go through the importation process because the car has already been delivered into the country and almost everything catered for.
In spite of that, the cost of the Kia Sorento from the bond depends on a number of factors. Some of these include model, condition of the car, year of manufacture and the dealer respectively.
The Kia Sorento can cost you around $ 26,294 for later models on average. To buy a foreign used Kia Sorento from Japan you may have to pay averagely about $ 10,000 or even more depending on the condition of the car, model, car dealer you use and year of manufacture.
However, the quoted price typically does not include Freight to Mombasa port and transportation from Mombasa port to Uganda. Additionally, it excludes taxes charged by the Uganda Revenue Authority which include Import Duty, Value added (VAT), Withholding Tax, Environmental Levy, Infrastructure Levy, and Registration Fees.
For example a 2010 KIA Sorento will costing around $ 12,150 will end up equating to UGX 90,715,648 after all taxes have been calculated and included.
Click
here to buy a KIA Sorento
in Uganda
Common problems of the Kia Sorento complained by owners in Uganda
The most-reported problem with the 2011 Sorento is that the doors won't open from outside.
Furthermore, interior accessories were reported to have a number of issues in the 2011 model.
Reasons as to why Ugandans buy the Kia Sorento
As the keepers of a long-term 2016 Kia Sorento SX, we've spent plenty of miles behind the wheel of Kia's mid-size crossover. Fortunately, like the 2016 Sorento, the 2017 model is refined.
Exterior noise is well suppressed—our long-termer is seven decibels quieter than the new 2017 Audi Q7 at idle—and front-seat comfort is outstanding.
Meanwhile, the Sorento's available V-6 and EX-exclusive 2.0-liter turbocharged four-cylinder offer ample torque; in addition, the six-cylinder AWD version is rated to tow 5000 pounds when properly equipped.
Other alternatives available in Uganda similar to the Kia Sorento
We have Audi Q7, Toyota Highlander, Jeep Cherokee and Ford Edge
Click
here to buy a KIA Sorento
in Uganda
Briefly about the interior of the KIA Sorento
The base trim comes with only one interior color option. But as you work your way up to the top, you go from cloth to the plush, regal Nappa Leather in the SX Limited V6 trim.
As a side note, one of the SX Limited V6's interior color options brings to mind 1990s shoegaze band The Catherine Wheel's guitar anthem, "Black Metallic." And that is kind of awesome.
My last Take on This Ugandan Car
The KIA Sorento is all about value, touting a lot of popular equipment and a long warranty for the lowest possible price.
Click
here to buy a KIA Sorento
in Uganda