Before you buy a Kia Niro in Uganda
by Edwin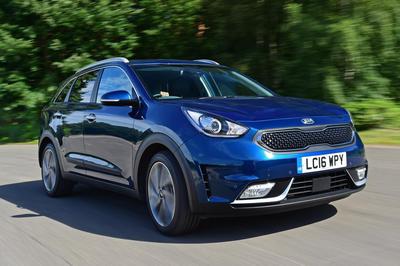 The Kia Niro is a hybrid subcompact crossover SUV manufactured by Kia Motors since 2016.


Before you buy a Kia Niro in Uganda
The brand name KIA means "rising out of Asia". KIA Motors Corporation was founded in 1944. It is the oldest manufacturer of motor vehicles in Korea and now a division of the Hyundai-Kia Automotive Group. It begins to make motorcycles in 1957 and trucks in 1962. KIA established partnership with Mazda in 1970 and Ford 1986. Today KIA is a big company and produces 1.5 million vehicles a year.
Of late kia vehicles have started to hit the streets of Kampala. Many people are considering them as their personal cars due to their outstanding design, technology and also as a unique alternative to the Toyota brands in Uganda.
Click
here to buy or hire a Kia Niro or Car Spare parts
in Uganda
Buying a foreign used Kia Niro from a local Ugandan car bond
You can choose to buy your Kia Niro from a local car bond in and around Kampala. All you have to do is simply pay for the car from the car bond and drive home. However, you can also find that some Kia Niro have only been cleared the CIF fees only.
This would mean that if you want a Kia Niro then you will have to clear the rest of the taxes. Alternatively, you can buy a Kia Niro from a local car bond in Uganda with all the due tax charges and fees paid. All you have to do is to pay the whole price of the car and then the car is transferred to you as the new owner.
You can find the Cost, Insurance and Freight of a Kia Niro (that is from abroad to Kampala) to be around $ 6,000 or even above as stated by the car bond dealers. The total sum of the CIF can change due to year of manufacture, condition of the car, mileage and the dealer you choose to buy your Kia Niro from your car dealer/seller.
Click
here to buy or hire a Kia Niro or Car Spare parts
in Uganda
Importing a foreign used Kia Niro from Japan
If you prefer to import you own Kia Niro from say Japan, the things would change a bit. First it would require you to find a trusted dealer or seller in that regard, your specific car features and requirements, expected budget/price you plan to spend on buying the car and well calculated taxes to be paid to the tax authorities in order to clear Kia Niro.
You will also require to clear all the fee of Cost, Insurance and Freight commonly referred to as CIF of your Kia Niro.
The Cost is the initial price of the Kia Niro, Insurance is meant to safe guard the car against any risk the Kia Niro may encounter on its way to Kampala and finally the Freight fee is to ship n transport the Nissan Pathfinder up to Kampala.
The taxes charged by the Uganda Revenue Authority include Import Duty, Value added (VAT), Withholding Tax, Environmental Levy, Infrastructure Levy, and Registration Fees basing on the CIF of the Kia Niro from Japan.
Click
here to buy or hire a Kia Niro or Car Spare parts
in Uganda
General KIA Niro reviews for Uganda
While the boldly styled Toyota Prius wears its eco-friendly credentials on its sleeve for example, the Kia Niro favours a more low-key approach. With its traditional compact family hatchback proportions, subtly raised ride height and tough-looking black wheel arch surrounds, the Kia follows a template set by fashionable, conventionally powered crossover models.
The subtle design continues inside, where the Niro feels far more mainstream. Yet what it lacks in flair, the interior makes up for with solidity. Everything seems robustly built, while most of the materials have a high-quality look and feel.
For instance, soft-touch plastic covers the top of the dashboard, and the use of gloss black trim inserts and metal-effect air vent surrounds helps give the cabin an upmarket lift. One eco-minded feature is that you can set the climate controls to focus solely on the driver if you're travelling one-up - this is an eco feature that was first seen on the Kia Soul EV.
Getting to the passenger space, leg room and head room, Occupants sitting in the rear of the Kia have more headroom than in the Toyota thanks to the car's squarer crossover shape.
Up front, the driver gets a wide range of seat and wheel adjustment, while the only real ergonomic niggle is the foot-operated parking brake, which sits uncomfortably high and near your left shin when it's disengaged.
Click
here to buy or hire a Kia Niro or Car Spare parts
in Uganda
Availability of KIA Niro spare parts in Uganda
The KIA Niro spares readily available in Uganda. At least you can access them in Kampala though they may not be readily available in areas outside the central region like in the eastern part of the country, in the northern part and other areas. This means if you get a mechanical break down while you are in those areas/places, then you will have to send for help from Kampala.
Our Final Verdict
The Kia Niro is a petrol-electric hybrid model that steers clear of the normally extrovert styling cues of these sorts of cars, and that alone will put it at the top of many buyers shopping lists. And in isolation, the Niro is a spacious, well equipped and efficient family crossover.
This makes the KIA Niro a conducive car for the highly traffic congested towns like Kampala especially at peak hours.
Click
here to buy or hire a Kia Niro or Car Spare parts
in Uganda