Before you buy a KIA Forte in Uganda
by edwin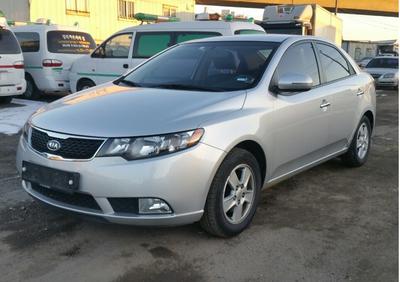 The Kia Forte, known as the "Kia K3" in South Korea, is a compact car produced by Kia Motors since mid-2008. It replaced the Kia Cerato and is available in two-door coupé, four-door sedan, five-door hatchback variants.

This Car is not available in Europe, where the similar sized Kia Cee'd is offered (except for Russia and Ukraine, where the Cee'd and the Forte are both available).


Before you buy a KIA Forte in Uganda
The brand name KIA means "rising out of Asia". KIA Motors Corporation was founded in 1944. It is the oldest manufacturer of motor vehicles in Korea and now a division of the Hyundai-Kia Automotive Group. It begins to make motorcycles in 1957 and trucks in 1962.
KIA established partnership with Mazda in 1970 and Ford 1986. Today KIA is a big company and produces 1.5 million vehicles a year.
Of late, KIA Forte has seen its way into the Ugandan automobile market. Mostly driven by the corporate guys, this sedan has proved to be a class a part from its competitors. For example these cars have been bought by various ministries of the government in Uganda.
Click
here to buy a KIA Forte
in Uganda
Buying a foreign used KIA Forte from a Ugandan car bond
Buying a KIA Forte from a Ugandan Car bond can cost up to 50 million Uganda shillings for a recent year of manufacture and latest model.
However, prices can vary depending on the year the condition of the car. For those that have been used in Uganda for some time can cost around 15 to 30 million Ugandan shillings. Expect to get some KIA Forte at lower prices like those that have been auctioned off by government ministries.
Importing a foreign used KIA Forte from Japan
In case you're to buy a Used KIA Forte from Japan you may have to pay averagely about $ 5,000 and more depending on the condition of the car, model, car dealer you use and year of manufacture.
However, the quoted price typically does not include Freight to Mombasa port and transportation from Mombasa port to Uganda. Additionally, it excludes taxes charged by the Uganda Revenue Authority which include Import Duty, Value added (VAT), Withholding Tax, Environmental Levy, Infrastructure Levy, and Registration Fees.
These costs may end up increasing your final cost of KIA Forte. Take for example a KIA Forte 2012 costing $ 6,369 CIF (21,654,600 ugs) will attract total taxes of UGX 20,980,216.04. Hence the total cost of the car will be Ugs 42,634,816
Click
here to buy a KIA Forte
in Uganda
Common Problems Owners of KIA Forte face while in Uganda
Apart from the common and minor problems like suspension bushes, shock absorbers, the 2010 Kia Forte has the most overall complaints, & the most-reported problem is with the 2012 Forte for oil leak.
Other models have few issues complained about with the 2016 and 2015 having the least complains.
Reasons as to why Ugandans buy the KIA Forte
Some owners love sporty hatchbacks with manual transmissions and the design which is appealing.
Furthermore, the KIA Forte has a roomy interior and cargo capacity, lots of available features and simple-to-use infotainment system.
Click
here to buy a KIA Forte
in Uganda
Other alternatives available in Uganda similar to the KIA Forte
Alternatives of the KIA Forte include the Ford Focus, Honda Civic, Hyundai Elantra, Mark X, Toyota Premio, Toyota Corolla
Briefly about the interior of a KIA Forte
Kia offers lots of available features like for the 2017 Forte. It can be equipped with high-tech features like a 7-inch touch-screen UVO infotainment system that includes Apple Car Play and Android Auto.
These features make it a breeze to connect your smartphone to the car and access popular phone applications though the large, easy-to-use touch screen. The UVO infotainment system is simply one of the best on the market.
On top of its healthy features list, the Forte has one of the nicest interiors in the class despite being one of the least expensive compact cars on the market. The Forte's cabin offers an impressive display of high-quality features and attractive styling.
Click
here to buy a KIA Forte
in Uganda
My Last take on the Ugandan Car
If you are interested in a KIA Forte, get the hatchback. As far as looks, space, quickness in and out of traffic, and easy to work on, this is really the best hatch you can get. Good luck on your new car purchase.