Before you buy a Jeep Wrangler in Uganda
by Edwin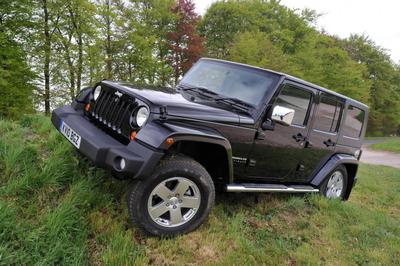 The Jeep Wrangler is a compact and mid-size (Wrangler Unlimited models) four-wheel drive off-road vehicle manufactured by Jeep, currently in its third generation.


Before you buy a Jeep Wrangler in Uganda
The Jeep Wrangler is the most jeep-like style model among Jeep products, which started in 1989 and currently 3rd generation is in sale. However, the most popular model is its 2nd generation which had been in sales from 1996 through 2007.Both hard-top and soft-top models are available. The engine is 4.0-Liter in-line-six OHV (Overhead Valve) 175ps/29.5kgm (GH-TJ40S, GF-TJ40S, E-TJ40S). The transmission is 3-speed AT with drive train part-time 4WD (Four Wheel Drive). Suspensions are coil rigid for front and rear. Safety devices are dual airbags and anti-theft alarm.
Click
here to buy or hire Jeep Wrangler and buy car spare parts
in Uganda
Buying a foreign used Jeep Wrangler from a local Ugandan car bond
There are a number of car bonds in Uganda specifically Kampala from which you can buy your Jeep Wrangler. However, you have to do good research in order to find a reputable car bond or dealer who will be able to provide you with the car that will meet your needs and above all genuinely imported into Uganda.
You need to look out for prices and discounts. Local car bonds may not charge the same prices for the same car. Prices of the Jeep Wrangler may be affected by mileage of the Volvo S40, condition of the car, model, and year of manufacture.
It is also very important to note that there have been numerous cases of car thefts especially from Europe in particularly from Britain. These cars have been traced up to Uganda and the buyers have fallen in trouble for buying stolen cars.
Click
here to buy or hire Jeep Wrangler and buy car spare parts
in Uganda
Importing a foreign Used Jeep Wrangler from Japan or other parts of the world
In case if you prefer to import your own Jeep Wrangler from say Japan or from Europe, things change a bit. First it would require you to find a trusted dealer or seller in that regard, determine your specific car features and requirements, expected budget you plan to spend on buying the car and well calculated taxes to be paid to the tax authorities in order to clear Jeep Wrangler.
It is also very important to examine the car upon arrival to check and see if all the car components are included in the car as it was shown to you before buying it. You need to watch out for car spare tires, car jack, radio, navigation systems, window power buttons among other things.
The taxes charged by the Uganda Revenue Authority include Import Duty, Value added (VAT), Withholding Tax, Environmental Levy, Infrastructure Levy, and Registration Fees basing on the CIF of the Jeep Wrangler from Japan or Europe.
On arrival to Kampala, Uganda, you will have to clear the taxes at The Uganda Revenue Authority (URA), apply and pay for a number plate and then the third party license. You will also notice the some of these charges or fees differ from other vehicles.
Click
here to buy or hire Jeep Wrangler and buy car spare parts
in Uganda
General Jeep Wrangler reviews for Uganda
The rugged looks of the Jeep Wrangler are directly inspired by the Willys Jeep of World War II. There's Jeep's trademark seven-bar vertical grille, round headlights, exposed door hinges and separate wheel arches front and rear, and it looks a bit more modern than a Land Rover Defender. There are two and four-door body styles, with the latter having a wheelbase that's 523mm longer, which boosts cabin space. What's more, you can fold the windscreen and remove the roof and doors for an open-air driving experience. Inside there's an upright dashboard, lots of chunky detailing and easy-clean plastics, but you wouldn't call it comfortable.
Now let's take a closer look at the practicality, comfort and boot space. The four-door Jeep Wrangler is a big car – at 4,751mm long, it's nearly as long as a Land Rover Discovery 4, but while that car's a seven-seater, the Wrangler barely has room for five. The front seats are cramped, the rears aren't much better, and the boot is only 498 litres, when the Disco 4 in five-seat guise has 1,192 litres. Access to the boot is via a side-hinged door, so you need to leave a decent gap behind if you want to get in there. Having said that, the Land Rover Defender is even more cramped, and it doesn't have a separate boot.
Availability of Jeep Wrangler Spares parts in Uganda
Jeep Wrangler spares can be accessed in down town Kampala auto market. For some newer models, you may have to order for them from abroad that is if they don't exist in Uganda.
Click
here to buy or hire Jeep Wrangler and buy car spare parts
in Uganda
Common Jeep Wrangler complaints in Uganda
The 2008 Jeep Wrangler has the most overall complaints, & the most-reported problem is with the 2007 Wrangler for death wobble. The 2008 Jeep Wrangler has numerous electrical faults, suspension problems and engine faults. Other issues complained about may include expensive spares as compared to other rivals.
Our Conclusion
The Jeep Wrangler is a rugged and capable off-roader, just don't ask too much of it on tarmac. Need to go upcountry? The Jeep Wrangler will offer you a great deal you can't resist.
Click
here to buy or hire Jeep Wrangler and buy car spare parts
in Uganda