Before you buy a JEEP PATRIOT in Uganda
by edwin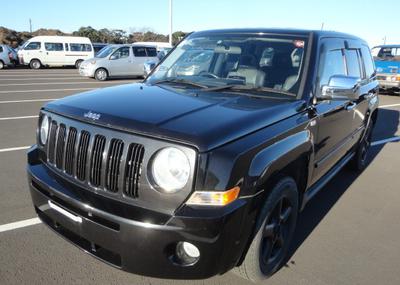 JEEP PATRIOT in Uganda
The Jeep Patriot (MK) is a front-engine five-door compact crossover SUV manufactured and marketed by Jeep, having debuted with the Jeep Compass in April 2006 at the New York Auto Show for model year 2007.

Both cars, as well as Dodge Caliber share the GS platform, differentiated by their styling and marketing, with the Patriot exclusively offering a four-wheel drive system, marketed as Freedom Drive II.


Before you buy a Jeep Patriot in Uganda
Jeep has always been emphasizing on their vehicles' off-road capabilities. It is the oldest 4×4 off-road vehicle and sport utility vehicle (SUV) brand.
Jeep inspired a number of light utility vehicles brands, such as Land Rover. A variety of 4×4 models like Cherokee, Grand Cherokee and Wrangler are available.
Every Jeep vehicle has a unique driving taste. You will like the stylish body design and the extremely tough and outstanding performances on rough roads especially those found in the rural areas of Uganda.
Further more, the Jeep Patriot is the first compact SUV (Sports Utility Vehicle) in the over half-century glorious history of jeep making. The front design derives from the authentic Jeep with 7-slot vertical grille and a pair of rounded head beam.
The engine is 2.4-Liter in-line-four VVT (Variable Valve Timing) DOHC (Double Overhead Cam) gasoline 170ps/22.4kgm (ABA-MK74). The transmission is CVT (Continuously Variable Transmission) with drive train Full-time 4WD (Four Wheel Drive).
Suspensions are strut with coil spring in front and multi-link with coil spring in rear. Safety devices are dual airbags and ABS (Anti-lock Brake System) with ESP (Electronic Stability Program).
Click
here to buy a Jeep Patriot
in Uganda
Buying a Jeep Patriot from a Ugandan car bond
In case you want to buy a foreign used Jeep Patriot from Japan you may have to pay averagely about $ 4,000 or even more depending on the condition of the car, model, car dealer you use and year of manufacture.
However, the quoted price typically does not include Freight to Mombasa port and transportation from Mombasa port to Uganda.
Additionally, it excludes taxes charged by the Uganda Revenue Authority which include Import Duty, Value added (VAT), Withholding Tax, Environmental Levy, Infrastructure Levy, and Registration Fees.
Let's take an example of a Jeep Patriot 2008 model with a CIF of UGX 20,759,892.48. This vehicle will attract total taxes worth UGX 19,883,903.23. This will bring the total cost of the car to UGX 40,643,795.
Click
here to buy a Jeep Patriot
in Uganda
Reasons as to why Ugandans buy the Jeep Patriot
Jeep has pared the Patriot's models to two: Sport and Latitude. The Uconnect infotainment system and satellite radio are now standard. A rearview camera is newly optional, as is an SE package for the Sport model.
The SE package includes a continuously variable automatic (CVT), leather-wrapped steering wheel, heated seats, 17-inch wheels, and gray exterior accents.
A 75th Anniversary edition adds to the Sport bronze 17-inch wheels, a power sunroof, remote start, and a leather-wrapped steering wheel, plus the 2.4-liter engine and the six-speed automatic.
Compared with the base Sport, the Latitude adds air conditioning, power windows, power door locks, keyless entry, and heated seats, among other essentials. The High Altitude option package adds a sunroof, a power driver's seat, a CVT, and other luxuries to Latitude models.
Click
here to buy a Jeep Patriot
in Uganda
Common problems owners of Jeep Patriot encounter while in Uganda
The 2008 Jeep Patriot has the most overall complaints, & the most-reported problem is also with the 2008 Patriot for sunroof leaks.
Other alternatives available in Uganda similar to the Jeep Patriot
Well we have the Suzuku Grand Vitara, VW Touareg, BMW X5, KIA Sorento, Dodge Journey
Click
here to buy a Jeep Patriot
in Uganda
Briefly about the interior of a Jeep Patriot
It's hard not to like bargain pricing, and the straightforward two-box styling, distilled from the 1984 Cherokee, is enduring in its appeal.
The addition of a conventional automatic option for 2014 was a welcome alternative to the continuously variable transmission that was the only automatic in years past. Sourced from Hyundai, the six-speed automatic is shared with the Dodge Dart.
Interior appointments are reasonably attractive, rear-seat room is generous, and the Patriot will swallow lots of cargo. Also, with the Freedom Drive II off-road package, the Patriot is surprisingly capable off-pavement.
Click
here to buy a Jeep Patriot
in Uganda
Conclusion
Those seeking an affordable off-roader should check out the Patriot—but move fast, as this is likely its last year on sale. It offers a 158-hp 2.0-liter or a 172-hp 2.4-liter, both four-cylinders. For transmissions, choose among a five-speed manual, a six-speed automatic, and a CVT.
Front-wheel-drive is standard; all-wheel drive is optional. U-connect infotainment and satellite radio are standard.
The Patriot is no joy ride, but its boxy styling is charmingly reminiscent of classic Jeeps.
Click
here to buy a Jeep Patriot
in Uganda