Before you buy a Jeep Compass in Uganda
by Edwin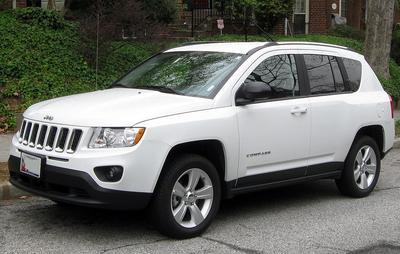 The Jeep Compass (MK49) is a compact crossover SUV introduced for the 2007 model year. The Compass, along with the related Patriot slots below the Jeep Wrangler as an entry-level sport utility vehicle, and is one of Jeep's first crossover SUVs.


Before you buy a Jeep Compass in Uganda
The Jeep Compass is an attempt by the US Company to make a smaller, more usable car that rivals the Nissan Qashqai, with all the off-road ability of more expensive and larger Jeeps without the high running costs. While it's certainly good off-road, it's disappointing on it. It doesn't feel like a quality product and is outclassed by the Qashqai, Ford Kuga and VW Tiguan.
Click
here to buy or hire Jeep Compass and buy car spare parts
in Uganda
Buying a foreign used Jeep Compass from a local Ugandan car bond
There are a number of car bonds in Uganda specifically Kampala from which you can buy your Jeep Compass. However, you have to do good research in order to find a reputable car bond or dealer who will be able to provide you with the car that will meet your needs and above all genuinely imported into Uganda.
You need to look out for prices and discounts. Local car bonds may not charge the same prices for the same car. Prices of the Jeep Compass may be affected by mileage of the Jeep Compass, condition of the car, model, and year of manufacture.
It is also very important to note that there have been numerous cases of car thefts especially from Europe in particularly from Britain. These cars have been traced up to Uganda and the buyers have fallen in trouble for buying stolen cars.
Click
here to buy or hire Jeep Compass and buy car spare parts
in Uganda
Importing a foreign Used Jeep Compass from Japan or other parts of the world
In case if you prefer to import your own Jeep Compass from say Japan or from Europe, things change a bit. First it would require you to find a trusted dealer or seller in that regard, determine your specific car features and requirements, expected budget you plan to spend on buying the car and well calculated taxes to be paid to the tax authorities in order to clear Jeep Compass.
It is also very important to examine the car upon arrival to check and see if all the car components are included in the car as it was shown to you before buying it. You need to watch out for car spare tires, car jack, radio, navigation systems, window power buttons among other things.
The taxes charged by the Uganda Revenue Authority include Import Duty, Value added (VAT), Withholding Tax, Environmental Levy, Infrastructure Levy, and Registration Fees basing on the CIF of the Jeep Compass from Japan or Europe.
On arrival to Kampala, Uganda, you will have to clear the taxes at The Uganda Revenue Authority (URA), apply and pay for a number plate and then the third party license. You will also notice the some of these charges or fees differ from other vehicles.
Click
here to buy or hire Jeep Compass and buy car spare parts
in Uganda
General Jeep Compass reviews for Uganda
You'll either love or hate the way the Jeep Compass looks. It mixes Jeep's famous grille and headlight arrangement with chunky wheel arches and car-like proportions. Large alloy wheels add some toughness to the shape, but it's something of a caricature of a regular Jeep, having neither the sense of purpose that a Wrangler does, or the premium SUV feel of the Grand Cherokee.
Step inside and you'll be greeted by a raised driving position that lets you look over other vehicles. However, the steering doesn't adjust for reach, so it's hard to get comfortable and while forward visibility is good, the chunky rear pillars mean there are big blind spots to the rear. If you're expecting Skoda Yeti levels of flexibility inside the Compass, you'll be disappointed. The seats do little more than fold flat, and while there's okay space for four adults, the fact that there are cup holders positioned on the hefty transmission tunnel means that a middle seat passenger won't be very comfortable at all. The boot is below the class average in terms of size although Jeep has at least installed lots of deep door bins and storage pockets in the front.
Click
here to buy or hire Jeep Compass and buy car spare parts
in Uganda
Availability of Jeep Compass Spares parts in Uganda
Jeep Compass spares can be accessed in down town Kampala auto market. For some newer models, you may have to order for them from abroad that is if they don't exist in Uganda.
Common Jeep Compass complaints in Uganda
The 2007 Jeep Compass has the most overall complaints, & the most-reported problem is also with the 2007 Compass for control arm /bushing failure. Other problems include suspension problems, electrical faults, engine problems among others.
Click
here to buy or hire Jeep Compass and buy car spare parts
in Uganda
Our Conclusion
The Jeep Compass is a smaller, more affordable and useable off-roader than Nissan Qashqai, Toyota RAV 4 and other rivals in Uganda.