Before you buy a ISUZU WIZARD in Uganda
by edwin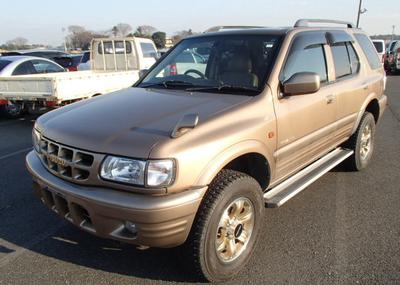 ISUZU WIZARD in Uganda
The Isuzu MU is a mid-size SUV that was produced by the Japan-based manufacturer Isuzu.

The three-door MU was introduced in 1989, followed in 1990 by the five-door version called Isuzu MU Wizard, both of which stopped production in 1998 to be replaced by a second generation. This time, the five-door version dropped the "MU" prefix, to become the Isuzu Wizard.

The acronym "MU" is short for "Mysterious Utility". Isuzu manufactured several variations to the MU and its derivates for sale in other countries.




Before you buy a Isuzu Wizard in Uganda
The Isuzu Wizard derives from Isuzu Mu-Wizard and has become independent model with long wheel base 5-door hatchback SUV (Sports Utility Vehicle).
Two engine types are 3.2-Liter DOHC (Double Overhead Cam) V6 gasoline with 215ps/30kgm (GF-UES25FW) and 3.0-Liter DOHC in-line-four diesel turbo 145ps/30kgm (KH-UES73FW).
The transmissions are 4AT and 5-speed manual with drive trains FR (Front Engine Rear Drive-gasoline) and Part-time 4WD (Four Wheel Drive). The rear seats are 60: 40 foldable.
The suspensions are double wishbone with torsion bar in front and 5-link coils in rear. Safety devices are dual airbags and ABS (Anti-lock Brake System) for all models.
Given the nature of the roads in upcountry areas, the wizard has found favour by a number of Ugandans who find it conducive for the task of handling the ragged terrains.
Click
here to buy a Isuzu Wizard
in Uganda
Buying a Isuzu Wizard from a Ugandan car bond
Buying a Isuzu Wizard from the bond in Uganda is one of the best ways you can access the car with ease.
This is because most of the work was done for you by the bond owner. One doesn't have to go through the importation process because the car has already been delivered into the country.
In spite of that, the cost of the wizard from the bond depends on a number of factors. Some of these include model, condition of the car, year of manufacture and the dealer respectively. The wizard can cost you around 20,000,000 to 25,000,000/- on average.
To buy a foreign used Isuzu Wizard from Japan you may have to pay averagely about $ 1000 - $ 3,500 or even more depending on the condition of the car, model, car dealer you use and year of manufacture. However, the quoted price typically does not include Freight to Mombasa port and transportation from Mombasa port to Uganda. Additionally, it excludes taxes charged by the Uganda Revenue Authority which include Import Duty, Value added (VAT), Withholding Tax, Environmental Levy, Infrastructure Levy, and Registration Fees. For example a wizard cost CIF UGX 10,500,723.54 will have a final cost of UGX 21,151,374.
Click
here to buy a Isuzu Wizard
in Uganda
Common problems of the Isuzu Wizard complained by owners in Uganda
The 3.0 litre 4JX1 motor has been the subject of recalls to do with the injector seals.
You just have to make sure you buy one that has NOT been recalled, or that was made after the problem was rectified. In any case, they MUST have 5-30W or 5-40W oil in the engine, to prevent injector problems. Other than that, there are no major complaints about the SUV.
Reasons as to why Ugandans buy the Isuzu Wizard
The engine is rated at 118KW (160HP), and performs very well. Keeps up with nearly everything else in normal driving.
Economy is not too bad for a heavy vehicle, about 11 litres/100km around town. (26 mpg) Maybe 9 or 10 litres/100km on the highway (30 mpg).
This wizard has a good tough interior that stands up to dirt and mud well. The surfaces are easy clean plastic that doesn't mind muddy boots.
Click
here to buy a Isuzu Wizard
in Uganda
Other alternatives available in Uganda similar to the Isuzu Wizard
Here we have the Jeep Cherokee, Toyota Kluger, Toyota Hilux Surf, Toyota Harrier, and Toyota Vanguard
Briefly about the interior of a Isuzu Wizard
The wizard has more leg-room in both the front and rear - great for taller people as compared to some of its common competitors here like the surfs.
In addition, the rear seats can fold flat giving heaps of carrying space.
My last thought/Conclusion
I'd recommend this car if you want a good reliable tough 4 x 4.
Click
here to buy a Isuzu Wizard
in Uganda