Before you buy a Isuzu FVR Truck in Uganda
by Edwin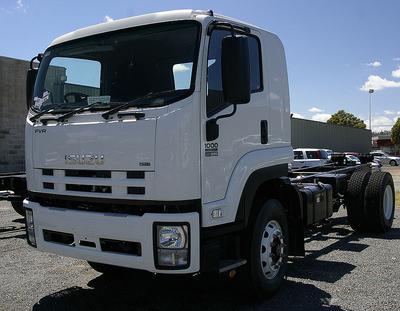 Isuzu FVR
Before you buy a Isuzu FVR Truck in Uganda
The Isuzu Forward (also known as the Isuzu F-Series) is a line of medium-duty commercial vehicles manufactured by Isuzu since 1970. All F-series trucks are cab over designs and the cabin comes fully built from the factory. Most models come with a diesel engine; but, some markets get CNG derivatives as well. The F-series is available a variety of cab styles, engines, 4WD or 2WD depending on the market it is sold. Most trucks are assembled in Japan; however, they are locally assembled from CKD kits in some countries.
Most mid-size and big-size models of the truck are distinguishable by a front 'Forward' badge; but the common Isuzu badge is usually used on the rear.


Buying foreign used Isuzu FVR Truck from a local car bond in Uganda
In case you choose to buy a foreign used Isuzu FVR Truck from a car bond makes life a lot easier to acquire yourself a vehicle. There is basically no need to go to Japan or order for the vehicle from Japan or any other part of the world. In short one just walks to the car bond and arrange for a purchase and within a short time, the car is paid for and handled over to you as the owner.
However, you can also find that some trucks have only cleared the cost, insurance and freight (CIF) fees only. So it would mean that if you want a Isuzu FVR Truck then you will have to clear the rest of the taxes. You can find the CIF of the Isuzu FVR Truck (that's up Kampala from Japan) to be around $ 42,000 or more for latest models.
However, the cost of the CIF can change due to year of manufacture, condition of the car, mileage and the dealer. Now the Isuzu FVR Truck is more expensive as compared to most the cars we have discussed. In general, the Isuzu FVR Truck can cost you around UGX 300,000,000 or even more.
Click
here to buy a Isuzu FVR Truck or Isuzu FVR Truck spare parts
in Uganda
Importing a foreign used Isuzu FVR Truck from Japan
Now this is different from buying from car from the car bond here in Kampala. Some people prefer to import their own cars directly from Japan or from any other part of the world. You have to follow a procedure similar to the one stated below.
First you have to search and select vehicle to buy from Japanese Used Car Portal Websites. Send Inquiry for price, condition, etc of the truck. The Japanese Dealers will respond you directly by Email.
Watch out for fake e-mails as many scams may con you for money. After that you negotiate with the Japanese dealer for a conducive price that fits your budget.
Request for a proforma invoice, place your order and make payment which may be either through bank wire or VISA. The seller will inform you about the following things like the Payment Confirmation, Shipping Schedule, B/L copy, Original Document and then you receive the order in this case the truck.
General Isuzu FVR Truck reviews
Engine
The new cab design means the same 221kW are doing less work at any given speed.
While the SiTec II motor provides the same power and torque as its older equivalent, in its new guise it also meets Euro 4 emission standards, making it leaner and greener than its predecessor.
Cab and Controls
Inside is where the greatest changes have taken place, making the FVR, and its related siblings, one of the best workplaces on wheels to roll out of a factory gate.
Isuzu made a conscious decision to give the F Series the most comprehensively equipped cab in its class.
The list of standard features includes an ISRI 6860 air-suspended driver's seat, driver's airbag, climate control air-conditioning, Bluetooth and i-Pod/MP3 connectivity, satellite navigation and a reversing camera.
Accessing the cab is simple enough: the door opens out to nearly 90 degrees, making it easy to climb in and out; the grab handles are well spaced; while the two steps offer plenty of support and grip for all size feet and in all weather conditions.
The ISRI driver's seat is a nice wide unit, with plenty of adjustment in each direction, and is designed to take drivers up over the 130kg mark, which covers pretty much everyone.
Add into that the integrated seatbelt, and there is no risk of being strangled by an overenthusiastic pre-tensioner ever again.
The dash layout is simple and effective. All you need to see is right there in front of you, including tacho, speedo, air brake pressure, temperature and a digital trip meter/odometer.
Click
here to buy a Isuzu FVR Truck or Isuzu FVR Truck spare parts
in Uganda
Performance
Starting the FVR is simple: just switch the ignition on, wait for the glow plug light to go out, twist the key around to the start position and away it goes. With plenty of work going into making the cab quieter than the previous model, the first thing you notice is just how nice it is to sit there with the engine idling while you use the integrated telephone to call into the operations manager to say you are ready to roll.
Brakes were also good. Standard fit includes Meritor Q Plus drums, front and rear, as well as an engine brake to help control the truck's speed.
The pedal placement is good, with plenty of space for a pair of steel caps without running the risk of jumping on the wrong pedal by mistake.
Isuzu has also given the clutch foot a break by including a foot rest. It is good to get the foot out of the way when you are on long straight drives; even five minutes is appreciated.
Running a mix of steel leaf springs at the front and airbags under the rear end, the ride of the FVR is surprisingly supple, even when loaded at 80 percent capacity.
Alternatives of Isuzu FVR Truck in Uganda
The Hino Ranger, Mitsubishi Fuso fighter and Nissan Diesel/UD Trucks Condor are some of the prominent competitors or alternatives of the Isuzu FVR Truck.
Click
here to buy a Isuzu FVR Truck or Isuzu FVR Truck spare parts
in Uganda
Availability of the Isuzu FVR Truck spare parts in Uganda
In general, the Isuzu brand is very common in Uganda. It's a brand you can't fail to see on street in the industrial area and cross country highways. This implies that there is definitely high demand for Isuzu after sales services in Uganda and that includes Isuzu spare parts sales. To cut the story short, you can't lose out on Isuzu spare parts while in Uganda.
Reasons why people buy the Isuzu FVR Truck in Uganda
The Isuzu FVR is mainly bought for transportation of goods. Thanks to the strong engine, the FVR can handle almost all tasks thrown at it. The Isuzu FVR is used to transport and distribute mineral water, cooking oil imports from Kenya into Uganda and many other things.
Our Conclusion
Overall, the FVR is a very impressive truck, with a lot to like and not a lot to dislike. its one truck in you can find in Uganda that can in any condition and load you throw at it with ease.
Click
here to buy a Isuzu FVR Truck or Isuzu FVR Truck spare parts
in Uganda