Before you buy a Isuzu D-Max pick-up in Uganda
by Edwin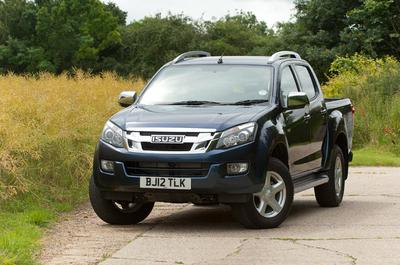 Isuzu D-Max pick-up
The Isuzu D-Max is a pickup truck manufactured since 2002 by Isuzu Motors. It shares the same platform with several General Motors (GM) mid-size trucks.


Before you buy a Isuzu D-Max pick-up in Uganda
The D-Max is available in single, extended and double cab body styles, with five main specifications to choose from: the basic utility model, Eiger, Yukon, Utah and Blade. There's also a special edition Fury model aimed at younger buyers, which gets a few sporty-looking upgrades.
In 2016 Isuzu launched a D-Max with some seriously rugged upgrades. The Arctic Truck AT35 is on sale in selected Isuzu dealers, and features huge tyres and overhauled suspension that makes it extremely capable off-road whatever the temperature.
Powered by a 2.5-litre twin-turbo diesel, the D-Max is a good choice for towing - the 4x4 models can tow up to 3,500kg and can carry a 1,058 - 1,136kg payload. It's available with either a six-speed manual or a five-speed automatic gearbox. However the most commonly preferred choice is the six-speed manual gear box here in Uganda.
Click
here to buy a Isuzu D-Max pick-up or car spare parts
in Uganda
Buying a Isuzu D-Max from a Ugandan car bond
Buying a Isuzu D-Max from the car bond in or around Kampala makes things bit simpler for you because you will not have to face all the lengthy processes and journeys to the port to own the car. Here most of the work has already been done for you. Most taxes have been cleared. All you have to do is to simply pay for the car from the car bond or your dealer.
However, you can also find that some cars have only cleared the CIF fees only. So it would mean that if you want a Isuzu D-Max then you will have to clear the rest of the taxes. You can find the Cost, Insurance and Freight of a premium Isuzu D-Max (that is from Japan to Kampala) to be around $ 12,000 or even above as stated by the car bond dealers. However, the total sum of the Cost, Insurance and Freight (CIF) can change due to year of manufacture, condition of the car, mileage and the dealer you choose to buy the car from.
Importing a foreign used Isuzu D-Max from Japan
Importing a foreign used Isuzu D-Max from Japan is different from buying the Isuzu D-Max from a car bond here in Kampala. You may prefer to import their own cars directly from Japan. This means all the costs are going to be met by you the owner of the car right from say Japan to Mombasa up to Kampala,Uganda.
First, you will need to determine the cost of the car while still in Japan from which the Cost, Insurance and Freight (CIF) are calculated. For example a Isuzu D-Max model 2003 costing $ 9,000 will make a total Cost, Insurance and Freight (CIF) of about $ 12,000 in order to be brought up Kampala, Uganda.
After arriving in Kampala, then the required taxes have to be cleared. The taxes charged by the Uganda Revenue Authority include Import Duty, Value added (VAT), Withholding Tax, Environmental Levy, Infrastructure Levy, and Registration Fees basing on the Cost, Insurance and Freight (CIF) of the car from Japan.
Click
here to buy a Isuzu D-Max pick-up or car spare parts
in Uganda
Availability of Isuzu D-Max spare parts in Uganda
All you need to know is that Isuzu motors has been on the Ugandan roads for quite some time. This means spares have been bought into the country for most of the models of Isuzu vehicles. For the d-max for example spares are readily available here in Uganda. Isuzu D-Max spare parts can be accessed in Kiseka auto-market and others auto-car markets around the country.
To some Isuzu D-Max owners, that wouldn't be an option as they may prefer to instead send for the spares from abroad or outside countries. You can get both used spare parts but still in good condition and brand new spare parts here in Uganda.
General Isuzu D-Max Pick-Up reviews for Uganda
Looking at miles per gallon and running costs, all models use the same 2.5-litre twin-turbo diesel engine, which develops 163bhp and 400Nm of torque. That is some good power under the hood to get your work done.
For the load space and practicality, Isuzu offers every possible combination with the D-Max, from single cab to extended and double cab models. It's also available with 4x2 and 4x4 drive trains, plus a low-range gearbox that's useful for off-roading.
The load bay in the single cab model measures at 2,305mm by 1,570mm, with a payload capacity of 1,128kg or 1,136 depending on the drive train. Head up to an extended cab for dimensions of 1,795mm by 1,530mm and a payload capacity of 1,085kg.
The double cab gets a load bay of 1,552mm by 1,530mm, but the payload capacity varies based on the model you choose - with the maximum being 1,096kg. The towing weight for 4x4 models is 3,500kg, dropping to 2.500kg otherwise.
Getting to the cab and interior, the d-max scores average as the Utility specification models are very basic inside the cab, with easy-clean trim and plenty of hard plastics to stand up to work use. However, even the most basic models have air-conditioning, front electric windows and height-adjustable headrests.
Click
here to buy a Isuzu D-Max pick-up or car spare parts
in Uganda
Other alternatives available in Uganda similar to the Isuzu D-Max Pick-Up
The Nissan Navara, Mitsubishi's L200, Ford Ranger and the Toyota Hilux are all shouting for customers' attention here in Uganda. So the D-Max has lots of work to beat its competitors here in Uganda.
Common Complaints Owners of Isuzu D-Max raise while in Uganda
The Isuzu D-Max doesn't outstanding issues since it's economical to run and maintain. In spite of the spares quite expensive especially for the latest models here in Uganda. Secondly the truck its self is quite costly to buy. So you must have enough on you to own it here…
Click
here to buy a Isuzu D-Max pick-up or car spare parts
in Uganda
Our verdict
You can feel the strength of the truck when you drive it. While driving it you realise just how reliable it is. It won't give you troublesome motoring. With a 3.5 tonne towing capacity, it shows you how capable it really is. Hope we cleared your doubts about the Isuzu D-Max. Good Luck