Before you buy a Isuzu Bighorn in Uganda
by Edwin
(Kampala, Uganda)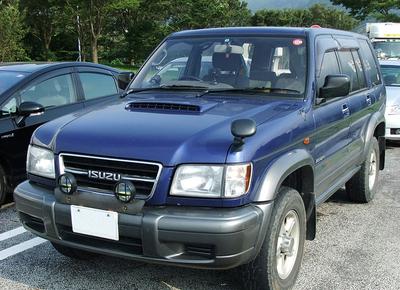 Isuzu Bighorn in Uganda

The Isuzu bighorn is one of the selected mid-sized SUVs in Uganda. This car comes with a four-cylinder motor, four-speed manual transmission, and part-time four-wheel drive, giving it excellent performance regardless of our conditions of our roads.

With the rear seats folded down, it offers the cargo volume of vehicles twice its size. The bighorn makes life a lot easier.

In addition, its spare parts are readily available but expensive.

One one major problem you will face as a bighorn or trooper car owner in Uganda is the low resale value at the time you want to sale off this car.



Buying a Isuzu bighorn from a Ugandan car bond
Buying a Isuzu bighorn/trooper from a Ugandan Car bond can cost you around 25 million Uganda shillings.
The resale value potential buyers will be giving you after you have used the car and want to sell it off locally could be between 18 million and 12 million Uganda shillings basing on the condition of the car, the seller and model.
Importing a Used Isuzu bighorn from Japan to Uganda
If you're to import a used bighorn/trooper from Japan you may pay averagely about USD3000-4000 depending on condition of the car and model or even the seller in that regard.
However the quoted price typically does not include Freight to Mombasa port and transportation from Mombasa port to Uganda. Additionally it excludes taxes charged by the Uganda Revenue Authority which include Import Duty, Value added (VAT), Withholding Tax, Environmental Levy, Infrastructure Levy, and Registration Fees.
These costs may end up increasing your resultant/final cost of the Isuzu bighorn/trooper to USD 8500.
Click
here to buy a Isuzu Bighorn
in Uganda
Common running costs incurred by the Isuzu bighorn while in Uganda
Shocks and bushes is another problem that keeps tormenting this car as it's basically an urban car. Turbo charger faults are also another problem that Isuzu bighorn owners face.
In addition, the spare parts are more expensive as compared to its Toyota counterparts like the Toyota Prado TX whose spare parts are more readily available and cheap.
Why People opt to buy the Isuzu Bighorn in Uganda
Ugandans typically buy Isuzu bighorn/trooper as Family Cars to make town service errands and occasional upcountry trips during holidays.
These cars are also used by NGOs and Corporate organizations as executive SUVs to run long distances and town service when a few passengers need transportation services.
Click
here to buy a Isuzu Bighorn
in Uganda
Common models of Isuzu Bighorns in Uganda
There are basically two models of Isuzu SUVs here in Uganda. We have the first generations (1981-1991). These have a box shaped body and they are now day rare.
However they are very hard knocks coupled with their cross bar springs which enables them to carry extra loads and very economical in terms of fuel consumption.
We then have the second generation (1991-2002). These are very common though not so popular among the drivers. Never the less, this is a prominent generation in Uganda.
Alternatives for a Isuzu bighorn in Uganda
If you don't want Isuzu Bighorn, you can opt-in for a Land cruiser Prado TX series, Land rover discovery series, Land Rover Defenders, Pajero Exceed 2009, Toyota Fortuner among others.
Click
here to buy a Isuzu Bighorn
in Uganda
The interior of Isuzu Bighorn
Among mid-sized SUVs, the Isuzu bighorn/trooper interior is one of the best ones available. Though it has seating positions for seven, there's enough room for all of them, and rear seat passengers will most likely find legroom to be lacking, especially if front seat passengers are also long-legged.
If you have used to Isuzu bighorn/trooper then you definitely know what am talking about. In short if you are tall and you hang around with tall guys, then this is the car I would recommend.
I addition, seven average-sized adults will find the Isuzu bighorn/trooper to be exceptionally comfortable, particularly in the front seats. One can fold-and-tumble the rear seats, nearly doubling cargo space, or remove them altogether, revealing a nearly flat loading floor.
Vehicle controls, such as the shift lever, audio system, and climate control, are easy to understand and ergonomically placed.
The steering wheel features tilt adjustment, and the seats feature basic adjustability, the driver's seat including additional height adjustment. The four-speaker sound system, including a CD player (depending on model/generation), is well-balanced, though total wattage would certainly not classify it as a show car. However some would install additional system like the sub-hoofers to boost their experience of music while driving.
Click
here to buy a Isuzu Bighorn
in Uganda
Driving experience of Isuzu Bighorn
The Isuzu bighorn/trooper is an absolute dream driving around town, even cruising on the highway. It has just enough pep to keep things interesting, but not enough to make highway merges particularly easy, thanks to its assortment of small engines, ranging from 3.8 ℓ to 3.5 ℓ.
Driving in town areas like in the center of Kampala, where you find high traffic, you will find yourself consuming more fuel. But on highways, like from Kampala to Jinja, you could spend less on fuel.
The Isuzu bighorn/trooper also is quite comfortable and easy to handle, with its car-like suspension and handling characteristics, so one doesn't feel as if driving a truck.
Once up to speed, highway cruising is comfortable and reasonably quiet, but the Isuzu bighorn/trooper is truly an executive urban or suburban runabout, which is where most families spend their time, anyway.
Click
here to buy a Isuzu Bighorn
in Uganda
My Final verdict for this Ugandan Car
The Isuzu bighorn/trooper is widely popular for casual urban drivers in Kampala to transport their small families to and fro.
Are you someone who travels long distances? Do you like speed? Then you shouldn't ignore the bighorn/trooper as its handling on the road rates high among its safety features.
Thanks to Lotus who designed the handling capabilities. The comfort provided by the well-designed seats give you enough luxury to enjoy your ride.
Click
here to buy a Isuzu Bighorn
in Uganda