Before you buy a HINO 500 Series Truck in Uganda
by Edwin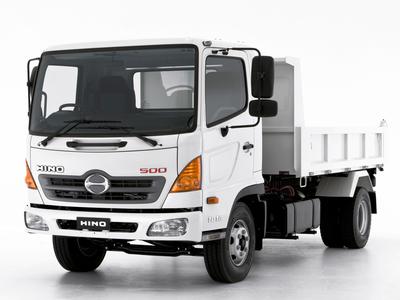 Not long ago the amount of technology fitted under a truck bonnet could've been categorized as basic and we say that with generosity. But in the latest years we've seen a surprising metamorphose among the light and medium duty commercial vehicles and every manufacturer struggles to raise the bar as much as it can to lower the fuel consumption and to improve the driver's comfort.

Hino's 500 Series isn't among the most advanced trucks in the business, but is still a major improvement over the previous generations, especially in the transmission department were it comes with a wide range of manual and automated units.

The truck is also available with different wheelbase lengths and its GVM (gross vehicle mass) ratings range from 8.000kg to 26.000 kg.


Buying a foreign used 2010 HINO 500 Series Truck from a Ugandan car bond
In case you opt to buy 2010 HINO 500 Series Truck from the a car bond in and around Kampala, then things could be a little bit more simpler for you because you will not have to face all the lengthy processes and journeys to the port of Mombasa to bring own the bus. Here most of the work has already been done for you. Most taxes have been cleared. All you have to do is simply pay for the car from the car bond and drive home. However, you can also find that some cars have only cleared the CIF fees only. So it would mean that if you want a 2010 HINO 500 Series Truck then you will have to clear the rest of the taxes. You can find the Cost, Insurance and Freight of a premium HINO 500 Series Truck (that is from Japan to Kampala) to be around $ 8,051 or even above. However, the total sum of the CIF can change due to year of manufacture, condition of the car, mileage and the dealer.
Click
here to buy a HINO 500 Series Truck or HINO 500 Series Truck spare parts
in Uganda
Importing a foreign used 2010 HINO 500 Series Truck from Japan
Importing a foreign used HINO 500 Series Truck from Japan is different from buying from car bond here in Kampala. You can prefer to import your own truck directly from Japan. This means all the costs are going to be met by you, the owner of the bus right from say Japan to Mombasa up to Uganda. Here, you will need to determine the cost of the bus while still in Japan from which the Cost, Insurance and Freight (CIF) are calculated. For example a HINO 500 Series Truck costing $ 4,814 will make a total CIF of $ 8,051 to be brought up to Kampala, Uganda. After arriving in Kampala, the required taxes will have to be cleared. The taxes charged by the Uganda Revenue Authority include Import Duty, Value added (VAT), Withholding Tax, Environmental Levy, Infrastructure Levy, and Registration Fees.
Availability of 2010 HINO 500 Series Truck Spare parts in Uganda
Hino spares are readily available in Uganda. Usually you have to go the Kampala down town spare parts market to access some of these spare parts. At least you can't fail to get the spares or alternatives for your truck to help you keep going.
Click
here to buy a HINO 500 Series Truck or HINO 500 Series Truck spare parts
in Uganda
General 2010 HINO 500 Series Truck reviews in Uganda
Design
The front features a cheap looking grille which bares the company's logo in its center. Hino tried to add a bit of dynamism to its dull design with two triangular turn signals which flank the grille, but they've only managed to make things worse.
The bumper is also cheap locking and pretty rudimentary, but it has a strong build quality and looks able to resist with in case of small impacts occur. The bumper is also fitted with two elongated headlights which don't do anything to improve the exterior design.
For easy access to the engine compartment, the cab tilts forward using an electro hydraulic mechanism with twin tilt cylinders.
Interior
Jump inside and you'll find a pretty familiar design which is typical for Hino's trucks. Needless to say that most of the plastics are part of the hard class as they were selected for their durability, but the fittings are pretty good and seem durable.
We also like that every control is within easy reach and the steering wheel offers a good grip despite its relatively dated design. You won't complain about storage wither, as there are a bunch of well placed consoles and convenient cub holders.
The instrument cluster is easy to read and it's fitted with big and clear gauges. To add some comfort to its utilitarian cabin Hino offers a bunch of convenient features such as cruise control, easy start, electric windows and air conditioning.
The flat seats aren't a bit hard for our tastes and are devoid of any adequate side bolstering. At least they can be adjusted according to your wishes permitting you to find a less uncomfortable driving position.
From the driver's seat, the view outside is commanding. As most trucks in this segment, the all-round visibility is top notch thanks to the big windshield and the generous door windows. The exterior mirrors are large and well-positioned for viewing the flanks while parking or driving through traffic. Thanks to its unibody construction, and a seat raised off the floor, there's a nice foot well with generous legroom and acres of headroom.
Click
here to buy a HINO 500 Series Truck or HINO 500 Series Truck spare parts
in Uganda
Ride and suspensions
The Hino 500's suspensions feature semi-elliptic tapered leaf springs with shock absorbers and stabiliser at the front and semi-elliptic main and auxiliary leaf springs at the back. The ride could get a bit bumpy on the difficult terrains, but usually the steel suspensions can soak most of the bumps without affecting the driver's comfort.
The steering is at par with its competitors and offers a proper response and sharp turnings. Though it's a bit light and lacks any significant road feedback.
The Hino 500 range comes with standard ABS on all 4x2, 6x2 and 6x4 models. It's worth to be mentioned that this is the first time when Hino has offered ABS as standard equipment on its medium-duty models.
Other alternatives available in Uganda similar to the 2010 HINO 500 Series Truck
Our Conclusion
The Hino 500 Series is ready to go head to head with the toughest jobs without backing down. However it has its small faults which are worth to be taken into consideration before buying one.
Judging by today's standards its cabin is dated and is fitted with rudimentary seats. On the other hand there is a wide range of engines available, but the downside is that the weaker engines could feel a bit underpowered especially when the truck is fully loaded and has to deal with steep inclines.
The relatively low price is another advantage, while the costs of maintenance are among the smallest in the business. We also like the wide range of transmissions available which cope great with the utilitarian character of the truck and offer good fuel efficiency and a proper response.
Click
here to buy a HINO 500 Series Truck or HINO 500 Series Truck spare parts
in Uganda