Before you buy a Foton Tunland Pick-Up in Uganda
by Edwin,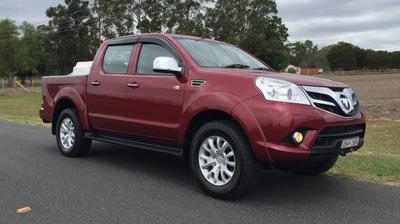 Foton Tunland Pick-Ups are basically bought by government for its ministries and Chinese firms for transportation. The Tunland is not so common among Ugandans due to the high demand of the better performers like Toyota Hilux and Ford Ranger Pick-Ups.


Before you buy a Foton Tunland Pick-Up in Uganda
The manual-only Tunland is available as a single cab 4x2, single cab 4x2 style side, single cab 4x4, dual cab 4x2, or dual cab 4x4, which we looked. Single cabs have an alloy.
Click
here to buy or hire a Foton Tunland Pick-Up and Foton Tunland Pick-Up spare parts
in Uganda
Buying a Foton Tunland Pick-Up from a local Ugandan dealer or bond
Some of the big car bonds in Uganda can avail you this heavy duty truck. Since most of the cars and trucks used in Uganda come from Asian specifically Japan and china, it is too easy to access the Foton Tunland Pick-Up. These car bonds have them imported into the country both new and foreign used.
So all you have to do is to pay a visit to car bond and see if they can avail you a Foton Tunland Pick-Up. It is better to inspect the truck first before making the payment in case you are buying a foreign used as normally such trucks and cars may have detrimental damages that may again be so expensive for you to fix.
However, if you are buying a new one, then everything about the truck mechanics will be ok. No worries on that. I would recommend you to make your through research before you choose to buy your truck as this will give you more insight and knowledge about what your really need.
Importing a Foton Tunland Pick-Up in Uganda
Now this is different from buying from car from the car bond here in Kampala. Some people prefer to import their own forklift truck directly from Japan or from any other part of the world. You have to follow a procedure similar to the one stated below.
Search and select forklift truck to buy from Japanese Used Car Portal Websites or from any other part of the world. Send Inquiry for price, condition, etc of the truck. The dealers will respond you directly by Email.
Watch out for fake e-mails as many scams may con you for money. After that you negotiate with the Japanese dealer for a price that fits your budget.
Request for a proforma invoice, place your order and make payment which may be either through bank wire or VISA. The seller will inform you about the following things like the Payment Confirmation, Shipping Schedule, B/L copy, Original Document and then you receive the order in this case the truck.
Click
here to buy or hire a Foton Tunland Pick-Up and Foton Tunland Pick-Up spare parts
in Uganda
General Foton Tunland Pick-Up key features and reviews for Uganda
Fuel consumption
The Tunland has a 76-litre fuel tank, and is claimed to use 8.3L/100km (combined cycle). We recorded 9.0L/100km after 120km of stop-start city traffic, dirt, and some off-roading.
The Design
The Tunland looks good, not spectacular; like a naughtiest-era dual-cab rather than a contemporary one. And you know what? That's fine because it's an easy fix. The Tunland is not unlike the BT-50 of recent years, in that once you've thrown a bull bar over the ordinary-looking front end (with its Wi-Fi-symbol-rotated-90-degrees-looking Foton logo) then all is forgiven.
Elsewhere, the Foton is a softer edged beast than some of its modern counterparts, with rounded headlights flowing back to a 'truck-lite' rear end, but it retains a robust, old-school ute presence.
Inside, the Tunland is neat, tidy and roomy. It looks ready for day-to-day duties – whether as a job-site workhorse, a daily driver, or a family mover. There is grey plastic everywhere but the cabin has nice touches like the leather-trim seats and wood-look panels.
Engine and transmission
The Tunland has a Cummins 2.8-litre turbo-diesel engine, producing 120kw at 3600rpm, and 360Nm at 1800rpm-3000rpm, backed up by a Getrag five-speed manual transmission. These are two components with great reputations made by the best of the best in their respective fields: engines and transmissions.
BorgWarner, another industry leader (in power trains, among other things), built the two-speed transfer case in the Tunland 4x4s. All Tunlands in Australia have Dana axles and differentials; the rear is LSD.
Practicability
Tunland's remote entry is two-stage: first press unlocks only the driver's door; second press unlocks the other doors – that can be annoying when you have people champing at the bit to get into the vehicle during a heat wave, and there is an almost-comical series of mistimed attempts at opening doors and pressing buttons.
The cabin is spacious. Build quality and fit and finish have been improved well beyond expectations. One or two buttons feel a bit flimsy and the button to adjust the wing-mirrors is tucked away on the right-hand-side dash behind the steering wheel; quite awkward to see, reach and use.
The air con defaults to 'off' every time you re-start, which is a bit of a niggle, especially during the heat wave conditions during which some of this review took place.
Seats are supportive enough without going beyond the call of duty; the front seat bases are a touch too short for tall people and extra side bolstering would be welcome.
There is ample head and leg room, front and back, although rear-seat passengers are forced into an upright, knees-high position; still they should be used to that if they've been riding around in utes for any length of time. Cup holder count runs to two in the front centre console.
The dual-cab Tunland has a 1025kg payload, a maximum braked towing capacity of 2500kg (1000kg less than most other utes) and 750kg unbraked.
Its cargo area is 1500mm long, 1570mm wide (1380mm, internal width at floor level; 1050mm internal width between the wheel arches) and 430mm deep. The tray has four tie-down points at each interior corner and a poly tray-liner which protects the top 'lip' of the tray and that's a big bonus.
Click
here to buy or hire a Foton Tunland Pick-Up and Foton Tunland Pick-Up spare parts
in Uganda
Alternatives of Foton Tunland Pick-Up in Uganda
The Foton Tunland Pick-Up faces stiff completion from re-known brands such as the Toyota Hilux (very popular in Uganda), the Mitsubishi L200 pick-up and of late the Ford Ranger pick which has also made a big show in the pick-up market in Uganda.
Availability of the Foton Tunland Pick-Up spare parts in Uganda
Foton is not one of the brands that you hear everyone talk about especially when it comes to pick-up. There are very few people who owned them if not find them in government. This as a result doesn't make the spares easy to come by. If you choose to buy one, then my advice is you ought to sort out the spare issue first.
Reasons why people buy the Foton Tunland Pick-Up in Uganda
People buy Foton Tunland pick-up for personal reasons. Many don't regard it as their first choice when it comes to this pick-up niche. Compared to other pick-ups like the Hilux, L200 and Ford ranger, the Foton Tunland Pick-Up is out rated in a number of aspects.
Our verdict
Foton Tunland pick-up is a good truck but not as good as its competitors like the Isuzu D-Max, Toyota Hilus, Mitsubishi L200, Ford Ranger and of late the VW Armrock when it gets to durability a muscle. So, there you are. With this I think you can make a formal decision to get yourself a good pick-up for yourself.