Before you buy a Ford Explorer XLT in Uganda
by Edwin
(Kampala, Uganda)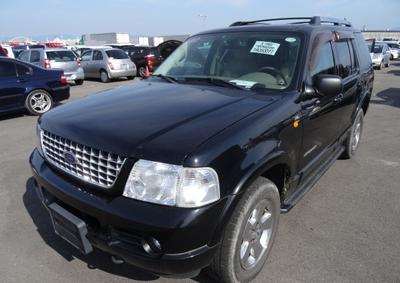 The Ford Explorer XLT is one of the bestselling compact SUVs in Uganda. It is available with optional all-wheel drive, giving it excellent performance regardless of our conditions of our roads. And with the rear seats folded down, this Ford offers cargo volume of vehicles twice its size.

The downside however is that this car requires high maintenance costs because its parts are not common in Uganda and the car also has low resale value.



Buying a Ford Explorer XLT from a Ugandan car bond
Buying a Ford Explorer XLT from a Ugandan Car bond can cost you around 43 million Uganda shillings.
The resale value potential buyers will be giving you after you have used the car and want to sell it off locally could be between 35 million and 26 million Uganda shillings depending on the condition or seller of the car.
Click
here to buy a Ford explorer
in Uganda
Importing a Used Ford Explorer XLT from Japan to Uganda
If you're to import a Used Ford Explorer XLT from Japan you may pay averagely about USD3000-4000 depending on condition of the car and model.
However the quoted price typically does not include Freight to Mombasa port and transportation from Mombasa port to Uganda.
Additionally it excludes taxes charged by the Uganda Revenue Authority which include Import Duty, Value added (VAT), Withholding Tax, Environmental Levy, Infrastructure Levy, and Registration Fees.
These costs may end up increasing your resultant/final cost of the Ford Explorer XLT to USD 8000.
Click
here to buy a Ford explorer
in Uganda
Common running costs incurred by the Ford Explorer XLT owners in Uganda
Just like other cars, shocks and bushes are tormenting to this car as it's basically an urban car.
Its spare parts are also generally expensive if you compared it with its counterparts from Toyota like the RAV 4s, Toyota Surf, and the Toyota Harrier.
The ford also has a low resale value. It's one of the types you can't get ready market for in case you want fast liquid cash.
Click
here to buy a Ford explorer
in Uganda
Why People opt in to buy the Ford Explorer XLT in Uganda
Ugandans typically buy Ford Explorer XLT as Family Cars for town service and occasional upcountry trips during holidays. Some people especially those who don't wish to drive Toyotas have the Ford as one of their preferred choices.
Common models of the the Ford Explorer in Uganda
Common Ford Explorer XLT Models in Uganda include First generation (XA10; 1994–2000), Second generation (XA20; 2000–2005), Third generation (XA30; 2005–2012), Fourth generation (XA40; 2013–present)
Some other cars in Uganda used for the same services as Ford Explorer XLT include Toyota Kluger, Toyota Surf, Toyota Harrier, Mitsubishi Challenger.
Click
here to buy a Ford explorer
in Uganda
The Interior of the Ford explorer
The ford explorer XLT has a roomy interior which makes all passengers have a comfortable ride. As someone who is tall and has a tall family, one will appreciate the comfort of the seating.
The Ford also has plenty of cargo space for you to load that extra baggage in case you are going to a long vocation and feel like taking more stuff.
The Exterior of the Ford explorer
Generally the Ford Explorer has a great exterior design which makes it look out standing from its counterparts.
Right from the grill, its head lights, the alloy rims make it look respectable no matter where you are. The side mirrors were properly designed which help the drive to have a wide view on all sides of the car with a lot of ease.
The Ford explorer XLT is a very reliable vehicle with high rankings throughout the world. Looking for a SUV? Don't leave the Ford XLT out of the List. Given its comfort, design, prestige and reliability that come with it, there is no doubt it's one of the best SUVs on the globe.
Click
here to buy a Ford explorer
in Uganda