Before you buy a DAF XF Truck in Uganda
by Edwin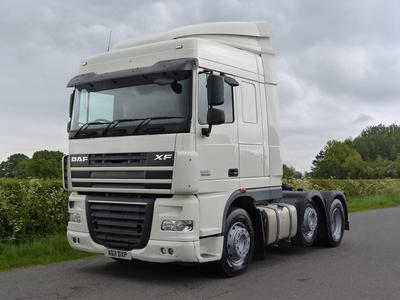 The DAF XF is a range of trucks produced by the Dutch manufacturer DAF since 1997. All right hand drive versions of the XF are assembled at Leyland Trucks in the UK. The XF 105 won the International Truck of the Year 2007 award. The truck features the 12.9 litre engine and ZF gearbox in both manual and automatic formats.


Buying a foreign used DAF XF truck from a local Ugandan car bond
There are a number of car bonds in Uganda specifically Kampala from which you can buy your DAF XF truck. However, you have to do good research in order to find a reputable car bond or dealer who will be able to provide you with the car that will meet your needs and above all genuinely imported into Uganda.
You need to look out for prices and discounts. Local car bonds may not charge the same prices for the same car. Prices of the DAF XF truck may be affected by mileage of the DAF XF truck, condition of the car, model, and year of manufacture.
It is also very important to note that there have been numerous cases of car thefts especially from Europe in particularly from Britain. These cars have been traced up to Uganda and the buyers have fallen in trouble for buying stolen cars.
Click
here to buy or hire DAF XF truck and buy car spare parts
in Uganda
Importing a foreign Used DAF XF truck from Japan or other parts of the world
In case if you prefer to import your own DAF XF truck from say Japan or from Europe, things change a bit. First it would require you to find a trusted dealer or seller in that regard, determine your specific car features and requirements, expected budget you plan to spend on buying the car and well calculated taxes to be paid to the tax authorities in order to clear DAF XF truck.
It is also very important to examine the car upon arrival to check and see if all the car components are included in the car as it was shown to you before buying it. You need to watch out for car spare tires, car jack, radio, navigation systems, window power buttons among other things.
The taxes charged by the Uganda Revenue Authority include Import Duty, Value added (VAT), Withholding Tax, Environmental Levy, Infrastructure Levy, and Registration Fees basing on the CIF of the DAF XF truck from Japan.
On arrival to Kampala, Uganda, you will have to clear the taxes at The Uganda Revenue Authority (URA), apply and pay for a number plate and then the third party license. You will also notice the some of these charges or fees differ from other vehicles.
Click
here to buy or hire DAF XF truck and buy car spare parts
in Uganda
General DAF XF truck reviews for Uganda
Looking at the exterior, if looks alone could make a truck a success, then the DAF XF would be right at the top. DAF's existing heavy truck range isn't the prettiest but they've changed everything with this new XF. While DAF hasn't managed to prize itself away from using the 1980's underlying cab structure, the XF has had one of the best makeovers. The LED headlights are a key attraction, the first time they've been seen on any heavy truck.
The interior is composed of a lovely semi-wraparound dashboard which gives the driver a sense of space. This dashboard is available in a black finish, or Agenta (alu-look) or Rusticated (wood-look). The seats are adjustable in height and length but if you really want comfort then go for the addition of ventilation and heating; it will keep you cool in the summer and warm in the winter. The driver's seat is also equipped with a quick-release airgun which you can use to blow dust and dirt off the interior.
Looking at the back into the cabin, you find two cab types which fit the new XF - the Space Cab and the Super Space Cab. Both are sleeper cabs but they've been widened to 2.55mm and have a flat floor. In the Space Cab you can have a top bunk with a ladder and a mattress for sleeping on, or you can have a bunk which makes a perfect storage area. The Super Space Cab has an 70cm wide bunk bed and is fitted with an easy lift system that helps to take the strain out of pushing the bed up against the back wall. Also on the wall of the cab is a rack to hold newspapers and magazines and a panel which has the buttons to operate the roof hatch, cab heater and interior lighting are also on this panel. There's also a night table, two cup holders and a 12 volt socket.
Click
here to buy or hire DAF XF truck and buy car spare parts
in Uganda
Common complaints Ugandans give about the DAF XF truck
The truck has a bland, uninspired styling as compared to some its competitors like the Actros. Quite expensive to maintain and has no trailer brake hand piece on manual version.
Availability of DAF XF truck Spares parts in Uganda
DAF XF trucks have been in Uganda for quite a while just the Mercedes-Benz trucks. So you may find it easy to find spares for the older models while the newer models could prove to be hectic to find in the country.
Click
here to buy or hire DAF XF truck and buy car spare parts
in Uganda
Verdict
The big DAF won't be everyone's cup of tea; it may not have the right numbers on the door, or even look the part. But it's easy to overlook these factors when you steer one for any length of time on the road. It's a very easy, pleasant vehicle to operate. But, what may grab some attention are the fuel figures for the drive, 1.97 km/l, pretty impressive for a truck with only 7,000km on the clock lugging a gross weight of 56 tonnes.