Before you buy a CAT 422F Backhoe Loader in Uganda
by edwin,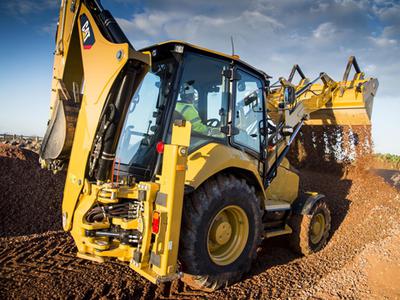 Caterpillar has a well proven history in the construction equipment industry and has been producing the highest quality machines for 90 years, making progress possible and driving positive and sustainable change on every continent. For 30 years Caterpillar has produced the British built backhoe loader. From the A Series to this new F2 Series we have done our best to produce a machine that is designed with the operator in mind, providing reliability, power and a quality operator environment. We have combined 30 years of passion, expertise and experience to create the latest Backhoe Loader offering from Caterpillar, the F2.


Before you buy a CAT 422F Backhoe Loader in Uganda
The CAT 422F Backhoe Loader maximize your productivity and ensure high levels of efficiency with ease of operation and class leading performance. Designed with you in mind, the Cat Backhoe Loader is ready to get straight to work with a lot of ease of operation and maintenance.
Click
here to buy or hire CAT 422F Backhoe Loader and buy car spare parts
in Uganda
Buying a foreign used CAT 422F Backhoe Loader from a local Ugandan car bond
You can find car bonds in Uganda specifically within Kampala from which you can buy your CAT 422F Backhoe Loader. There also some car bonds that can avail you earth moving equipment in Uganda such as the CAT 422F Backhoe Loader. However, you have to do good research in order to find a reputable car bond or dealer who will be able to provide you with the car that will meet your needs and above all genuinely imported machinery into Uganda. You also to make sure that that the equipment has been thoroughly inspected, expertly repaired and backed by extended coverage options so that you're assured of the highest quality, productivity and availability.
You need to look out for prices and discounts. Local car bonds may not charge the same prices for the same car. Prices of a CAT 422F Backhoe Loader may be affected by mileage of the car, condition of the car, model, and year of manufacture.
A CAT 422F 2012 Backhoe Loader is perfect condition can have a price of around USD 55,000 minus taxes. This means with taxes included, the price will surely go up.
Click
here to buy or hire CAT 422F Backhoe Loader and buy car spare parts
in Uganda
Importing a foreign Used CAT 422F 2012 Backhoe Loader from Japan or other parts of the world
In case if you prefer to import your own CAT 422F Backhoe Loader from say Japan, things change a bit. First it would require you to find a trusted dealer or seller in that regard, determine your specific car features and requirements, expected budget you plan to spend on buying the car and well calculated taxes to be paid to the tax authorities in order to clear CAT 422F Backhoe Loader.
It is also very important to examine the car upon arrival to check and see if all the Backhoe Loader components are included in the Backhoe Loader as it was shown to you before buying it. You need to make sure all the components are attached as you saw it before buying it.
The taxes charged by the Uganda Revenue Authority include Import Duty, Value added (VAT), Withholding Tax, Environmental Levy, Infrastructure Levy, and Registration Fees basing on the CIF of the CAT 422F Backhoe Loader.
On arrival to Kampala, Uganda, you will have to clear the taxes at The Uganda Revenue Authority (URA), apply and pay for a number plate and then the third party license. You will also notice the some of these charges or fees differ from other machinery or tractors depending on models and type.
Click
here to buy or hire CAT 422F Backhoe Loader and buy car spare parts
in Uganda
General CAT 422F Backhoe Loader reviews for Uganda
The 422F2 is fitted with mechanical controls providing low effort operation, with the ability to choose between ISO (Excavator) or SAE (Backhoe) control patterns. Providing easy and safe operation for operators of any experience or ability.
The F2 Series Side Shift Frame has exterior locking clamps, with no disassembly needed when servicing. The frame is a solid design with E-Coat protection, this prevents material build up in the frame and reduces the risk of rust, increasing the life of the frame.
Excavator Style Backhoe
Whether close-up truck loading or digging over obstacles, the iconic excavator style boom tackles the toughest jobs with ease. Combine this versatility with powerful breakout forces, controllability, a flow-sharing hydraulic system and the 422F2 is capable of high levels of productivity with minimum effort. The boom is a narrow design, ensuring maximum visibility to the work tool and ground.
Extendible Stick
The 422F2 is available with an extendible stick that increases dig depth and reach capability increasing the machines versatility and utilization, reducing the amount of machine repositioning and therefore reducing site damage. A sliding inner section design helps to ensure the wear pads remain as dirt free as possible, extending adjustment and replacement intervals. Auxiliary lines, for operating hydraulic work tools, have been routed so that they are protected from damage when working in the narrowest of trenches.
Side Shift Frame
Cat Cushion Swing
The 422F2 is equipped with Cat Cushion Swing, which enables very fast trenching by damping the boom oscillation during trenching cycles.
Powered Side Shift (optional)
Click
here to buy or hire CAT 422F Backhoe Loader and buy car spare parts
in Uganda
Provides a hydraulic service to allow the operator to easily position the backhoe across the full width of the Side Shift Frame. Ideal for use in areas with minimal space and utility applications such as gas, electrical, and telecoms.
The Proven Cat Engine Delivers Reliable Power on Demand
•The choice of a 56.5 kW or 68.5 kW EU Stage II power unit provides excellent performance for all applications.
•Outstanding fuel economy, contributes to low owning and operating costs.
•A robust power pack, this engine has been seen in many divisions of Cat for a number of years and remains today a very popular option, delivering power when it is needed most.
•Proven world-class manufacturing and core engine designs ensure reliability, quiet operation, and many hours of productive life.
Axles and Differential Lock
The F2 Series of Cat Backhoe Loaders boast heavy duty Cat axles
•Providing high durability, low noise levels and superb traction on uneven surfaces.
•Three chamber system provides constant lubrication of the heavy duty running gear and bearings on all gradients.
•100% locking differential is fitted as standard on the Cat Backhoe Loader, ensuring maximum traction in all conditions.
Power Shuttle Transmission
The 422F2 boasts a constant mesh, synchronized 4 forward and 4 reverse mechanical transmission. Capable of speeds up to 40 km/h, directional changes are made from the column mounted shuttle and gear changes using the floor mounted shift lever.
Hydraulic Boosted Brakes
Hydraulic boosted brakes are featured as standard on the 422F2. The hydraulic assistance reduced operator effort. The system produces the same braking performance, with less force exerted, resulting in quicker braking reactions and less operator fatigue.
Click
here to buy or hire CAT 422F Backhoe Loader and buy car spare parts
in Uganda
The Class Leading Operator Environment Just Got Better
•Heated seat to keep the operator warm no matter what the conditions are.
•Fantastic layout of switches and controls provide an ergonomic operating environment.
•A redesigned roof cab provides the operator with superior visibility to the loader at maximum dump height, from the comfort of the seat.
•Secure your investment with the Cat Backhoe Loader security system designed specifically for the Cat Backhoe Loader, this device will keep your investment secure, while providing easy access for up to 25 specified people.
•The loader control now gives you more power at your fingertips: Differential lock, transmission neutralizer and auxiliary control.
•The cab design now incorporates a flat profile, and flat glass to ensure replacement and security is as easy as possible.
•74 dB (A) internal sound level across the range no matter the engine option.
Availability of CAT 422F Backhoe Loader Spares parts in Uganda
The CAT 422F Backhoe Loader spares are readily available in Uganda. Down town auto market in Kampala is an example of places where you can find the spares. However should you find that the particular spares you need are not available then you may have to order the required spares from abroad.
Our Conclusion
There is no doubt that the 422F is designed to get work done with the highest level of design. The proven cat engine which delivers reliable power on demand makes the CAT 422F built for the task and find a solution to every job.