Before you buy a BMW X5 in Uganda
by Edwin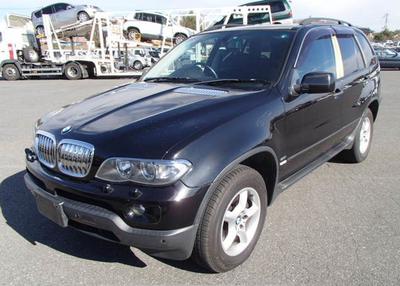 2006 BMW X5 in Uganda
The BMW X5 is a mid-size luxury crossover SUV produced by BMW. The first generation of the X5, with the chassis code E53, made its debut in 1999.

It was BMW's first SUV and it also featured all-wheel drive and was available with either manual or automatic transmission.

In 2006, the second generation X5 was launched, known internally as the E70, featuring the torque-split capable xDrive all-wheel drive system mated to an automatic transmission, and in 2009 the X5 M performance variant was released as a 2010 model.


Before you buy a BMW X5 in Uganda
The BMW X5 stands out from the rest of the pack with its emphasis on on-road driving performance. It's unlike any normal SUV and that's why it introduced its own category which is the SAV or sport activity vehicle.
The elegant exterior and beautiful interior is highly praised in the market. For a better overall performance, the X5 is equipped with a straight-six or V8 engine. The standard transmission is AT for all models. It also runs on a 4WD system for acceleration and handling.
Click
here to buy a BMW X5 or Car Spare parts
in Uganda
Buying a BMW X5 from a Ugandan car bond
In case you opt to buy BMW X5 from the a car bond in and around Kampala, then things could be a little bit more simpler for you because you will not have to face all the lengthy processes and journeys to the port to own the car.
Here most of the work has already been done for you. Most taxes have been cleared. All you have to do is simply pay for the car from the car bond and drive home. However, you can also find that some cars have only cleared the CIF fees only.
So it would mean that if you want a BMW X5 then you will have to clear the rest of the taxes. You can find the Cost, Insurance and Freight of a premium BMW X5 (that is from Japan to Kampala) to be around $ 4,000 and above. However, the total sum of the CIF can change due to year of manufacture, condition of the car, mileage and the dealer. Some could cost you less than $4,000.
Click
here to buy a BMW X5 or Car Spare parts
in Uganda
Importing a foreign used BMW X5 from Japan
Importing a foreign used BMW X5 from Japan is different from buying from car from the car bond here in Kampala. Some people prefer to import their own cars directly from Japan.
This means all the costs are going to be met by you the owner of the car right from say Japan to Mombasa up to Uganda. Here one needs to determine the cost of the car while still in Japan from which the Cost, Insurance and Freight (CIF) are calculated.
For example a BMW X5 model 2006 costing $ 4,500 will make a total CIF of $ 7,500 to be brought up Kampala, Uganda. After that, arrangements are made to ship the car to Kampala, Uganda. After arriving in Kampala, then the required taxes have to be cleared. The taxes charged by the Uganda Revenue Authority include Import Duty, Value added (VAT), Withholding Tax, Environmental Levy, Infrastructure Levy, and Registration Fees.
Click
here to buy a BMW X5 or Car Spare parts
in Uganda
Availability of BMW X5 spare parts in Uganda
The BMW X5 spare parts are available in Uganda. However the model and year of manufacture are very important factors in this issue.
If you have one of the latest models, then it's going to be hard for you to readily find spare parts on the auto market in Uganda unlike those models which were produced earlier on.
In addition, BMW X5 spare parts are costly. On this I have to be honest with you. Some people usually opt to buy them abroad from Europe or Asia like Japan and Dubai and ship them to Uganda.
Nevertheless, the BMW X5 still stands out as one of the best SUVs on the roads of Kampala.
Click
here to buy a BMW X5 or Car Spare parts
in Uganda
General BMW X5 reviews
The BMW X5 was the first SUV from BMW back in the late 1990s. It was built as a rival to the Mercedes M-Class, and it took the market by storm, while it wasn't until 2006 that Audi responded with the gargantuan Q7. On the outside, the current X5 looks like an unexciting evolution of the previous car, while the interior matches modern rivals for fit, finish and design.
Though no longer a dynamic benchmark, but fine diesels in X5 offer a combination of efficiency, performance and refinement. Just like other diesels, maintenance has be done in time and genuine oil products have to be used.
About the interior, design and technology, Evolutionary styling should please fans of the BMW brand, plus there's no shortage of tech inside the X5. The X5 M adds massive 20-inch wheels (and 21-inch rims are optional), plus a beefier body kit and M-specific 'breathers' behind the front wheel arches.
Inside, the dashboard design is a familiar X5 feature and in line with models from across the BMW range, but the smart switch gear and LED ambient lighting are impressive.
The latest version of the company's iDrive cabin control system is matched to a superb 10.2-inch screen, while standard equipment includes an attractive three-spoke M Sport steering wheel, memory seats, cruise control and two-zone climate control.
By updating the looks, BMW has given the new X5 much more usable space than the old car. And that was necessary to distance it from the smaller X3, the latest version of which has grown considerably. Around 40 per cent of X5 buyers opt for the extra two rear seats, which fold up out of the boot floor to give a 5+2 layout.
The driving position is high and offers a commanding view of the road. It also provides a wide range of adjustment, so buyers of all shapes and sizes should be able to find a comfortable setting.
There's plenty of space in the front and rear seats, with more than enough leg, shoulder and headroom. The X5 feels particularly wide at the front, where driver and passenger enjoy large and luxurious seats. In the back, three people will find it easy to get comfortable, with the flat floor ensuring there's plenty of legroom for all.
Click
here to buy a BMW X5 or Car Spare parts
in Uganda
Other alternatives available in Uganda similar to the BMW X5
Alternatives to the X5 in Uganda include the Volvo XC90, Range River Sport, Audi Q7 and Porsche Cayenne.
Common Complaints Owners of BMW X5 raise while in Uganda
The 2011 BMW X5 has the most overall complaints, & the most-reported problem is also with the 2011 X5 for stalled while driving. Plus the X5 spare parts are costly.
Click
here to buy a BMW X5 or Car Spare parts
in Uganda
My Conclusion about this Ugandan Car
There is no doubt X5 is a prestigious SUV on the road, durable and a vehicle that speaks for its self in terms of safety.
If you are traveling long distances, the X5 handles the job with pleasure. If you are going off road, the X5 is there to take there. My verdict, I say it worth to own…
Click
here to buy a BMW X5 or Car Spare parts
in Uganda