Before you buy a BMW X3in Uganda
by edwin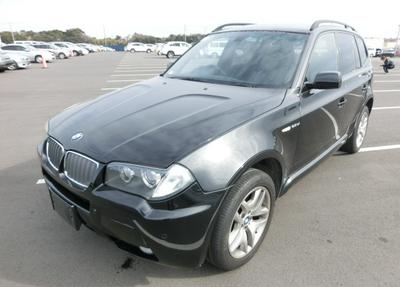 BMW X3
The BMW X3 is a compact luxury crossover SUV manufactured by German automakerBMW since 2003. Based on the BMW 3 Seriesplatform, and now in its second generation, BMW markets the crossover as a Sports Activity Vehicle, the company's proprietary descriptor for its X-line of vehicles. The first generation X3 was designed by BMW in conjunction with Magna Steyr of Graz, Austria—who also manufactured all X3s under contract to BMW. BMW manufactures the second generation X3 at their Spartanburg plant in South Carolina, United States.
Before you buy a BMW X3in Uganda
The BMW X3 is categorized as SAV (Sports Activity Vehicle) good for both tarmac and gravel roads. Two engine types are available; 2.5-Liter in-line-six with 218ps/25.5kgm (GH-PA25) and 3.0-Liter in-line-six with 272ps/32.1kgm (ABA-PC30) both gasoline. The transmission is 6AT which controls full-time 4WD. The torque distribution system called "xDrive" which prefixes torque 40:60 (front and rear) and splits it ideally by judging instantly and electronically the conditions of roads. DSC (Dynamic Stability Control) system assures stability and traction, enhances braking ability with Start-off assistance, Brake stand-by, Brake-dry and Anti-fade function.
Click
here to buy a BMW X3
in Uganda
Buying a BMW X3from a car bond in Uganda
Buying a car from a car bond makes life a lot easier to acquire yourself a vehicle. There is basically no need to go to japan or order for the vehicle from japan or any other part of the world. In short one just walks to the car bond and arrange for a purchase and within a short time, the car is paid for and handled over to you as the owner.
However, you can also find that some cars have only cleared the cost, insurance and freight (CIF) fees only. So it would mean that if you want a BMW X3 then you will have to clear the rest of the taxes. You can find the CIF of the BMW X3 (that's up Kampala from Japan) to be around $ 3,000 or more for latest models.
However, the cost of the CIF can change due to year of manufacture, condition of the car, mileage and the dealer. Now the BMW X3 is more expensive as compared to most the cars we have discussed. In general, BMW X3 can cost you around UGX 60,000,000 or even more.
Importing a foreign used BMW X3from Japan
Now this is different from buying from car from the car bond here in Kampala. Some people prefer to import their own cars directly from Japan or from any other part of the world.
This means all the costs are going to be met by the owner of the car right from say Japan to Mombasa up to Uganda. Here one needs to determine the cost of the car while still in Japan from which the Cost, Insurance and Freight (CIF) are calculated.
After that, arrangements are made to ship the car to Kampala, Uganda. After arriving in Kampala, then the required taxes have to be cleared.
The taxes charged by the Uganda Revenue Authority include Import Duty, Value added (VAT), Withholding Tax, Environmental Levy, Infrastructure Levy, and Registration Fees. When all this is done, then you are free to drive home in you BMW X3.
General BMW X3reviews
New compact luxury crossovers are being introduced apace, with strong-selling models like the Lexus NX and the Lincoln MKC claiming large slices of a pie once carved up almost exclusively by Acura, BMW, Mercedes, and Audi. But there's still goodness to be found among the older guard, particularly BMW's X3.
What didn't change in the update was the driving experience. The X3's chassis—an adaptation of the 3-series'—delivers levels of engagement and poise rare among its peers. While our preferred choice for back-road bombing is something much lower to the ground, the X3 is willing to play along, and it's well suited for day-to-day driving, too. The steering is accurate and linear (if not particularly talkative), and the chassis offers a ride-and-handling balance that belies this crossover's height and weight, although the ride can verge on too firm with the larger wheels and sportier suspension options our review model lacked. The X3's standout trait, however, is simply how cohesive it feels in operation; whether driven hard or at a lesser pace, its major elements all work in harmony.
Click
here to buy a BMW X3
in Uganda
Common complaints owners of the BMW X3raise in Uganda
The 2013 BMW X3 has the most overall complaints, & the most-reported problem is with the 2007 X3 for oil leaks. In addition its spare parts are very costly and sometimes hard to get by here in the auto mobile market. In short the spare parts are not readily available especially for those who have the latest models.
Other alternatives available in Uganda for the BMW X3
Here we have the Audi Q5, Toyota harrier, Volvo XC60 among others…
Click
here to buy a BMW X3
in Uganda
Conclusion
It turns out the old guard can still do good, and if you can't bear the thought of driving an actual station wagon instead of a station wagon on stilts—and can deal with BMW's uninspiring interior design—the X3 remains a fine choice in a fiercely competitive segment. Just watch it with the options.