Before you buy a BMW 1 Series in Uganda
by edwin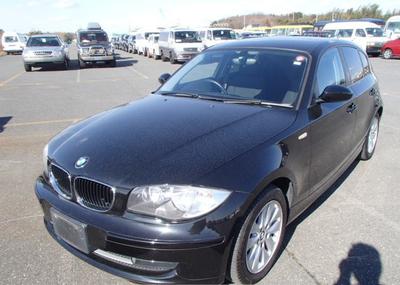 BMW 1 SERIES
The BMW 1 Series is a series of small luxury cars manufactured by the German automaker BMW since 2004. Successor to the BMW Compact, it has been produced in four different body styles.
Click
here to buy a BMW 1 Series
in Uganda
Before you buy a BMW 1 Series in Uganda
The BMW 1Series is a luxury vehicle that's unique in its class. It's the only model with an front engine, rear drive (FR) layout among BMW's line of premium compact sedans. The interior is spacious thanks to its 1.75m width. Choose between an inline-four or inline-six engine for performance. The manual transmission (MT) option is only available until 2014. The automatic transmission (AT) option is the standard for all models. The latest generation was released in 2011 and it features advanced technology such as the Brake Energy Regeneration system, Driving Performance Control, and automatic start/stop functionality. This model emphasizes on fuel economy for its class.
Buying a BMW 1 Series from a car bond in Uganda
Buying a BMW 1Series from the a car bond in and around Kampala, then things could be a little bit more simpler for you because you will not have to face all the lengthy processes and journeys to the port to own the car. Here most of the work has already been done for you. Most taxes have been cleared. All you have to do is simply pay for the car from the car bond and drive home. However, you can also find that some cars have only cleared the CIF fees only. So it would mean that if you want a Mercedes-Benz BMW 1Series then you will have to clear the rest of the taxes. You can find the Cost, Insurance and Freight of a premium BMW 1Series (that is from Japan to Kampala). For example, a BMW 1Series year 2008 having a price value of $2,615 will have a total CIF cost $ 4,666 to Kampala. However, the total sum of the CIF can change due to year of manufacture, condition of the car, mileage and the dealer.
Click
here to buy a BMW 1 Series
in Uganda
Importing a foreign used BMW 1 Series from Japan
Importing a foreign used BMW 1Series from Japan is different from buying from car from the car bond here in Kampala. Some people prefer to import their own cars directly from Japan. This means all the costs are going to be met by you the owner of the car right from say Japan to Mombasa up to Uganda. Here one needs to determine the cost of the car while still in Japan from which the Cost, Insurance and Freight (CIF) are calculated. After that, arrangements are made to ship the car to Kampala, Uganda. After arriving in Kampala, then the required taxes have to be cleared. The taxes charged by the Uganda Revenue Authority include Import Duty, Value added (VAT), Withholding Tax, Environmental Levy, Infrastructure Levy, and Registration Fees. When all this is done, then you are free to drive home in your new BMW 1Series.
General BMW 1 Series reviews
The BMW 1 Series is unique in the family hatchback class. It's not especially big and spacious, and it doesn't have a lot of ground-breaking equipment. What it does have is rear-wheel drive, cementing BMW's reputation as creators of 'the ultimate driving machine'. Despite this, it's still perfectly poised to take on premium rivals like the Audi A3 and Mercedes A-Class, while the generous equipment list means it can also compete with higher-spec variants of the Volkswagen Golf, Ford Focus, and SEAT Leon.
Whether you love or hate the way it looks, the 1 Series certainly stands out from the crowd. It is characterised by BMW's trademark kidney grille and large headlights, while a wide stance and slightly flared wheel arches make the car appear sportier than the average hatchback.
Sport models come with bigger wheels, sportier seats, which is to say seats that are more heavily bolstered at the sides, plus high-gloss interior trim and a sports steering wheel. Moving up to M Sport, you get 18-inch alloys, aluminum trim, M Sport branded seats and steering wheel, and a body kit.
The main casualty of the 1 Series' rear-wheel drive setup is rear passenger space, and especially the middle seat. The 1 Series has three three-point seatbelts in the rear, but there's scant legroom in the middle where the transmission tunnel runs.
Availability of BMW 1 Series spare parts in Uganda
The BMW 1 Series spare parts are available in Uganda. However the model and year of manufacture are very important factors in this issue. If you have one of the latest models, then it's going to be hard for you to readily find spare parts on the auto market in Uganda unlike those models which were produced earlier on. In addition, BMW 1 Series spare parts are costly. On this I have to be honest with you. Some people usually opt to buy them abroad from Europe or Asia like Japan and Dubai and ship them to Uganda. Neverless, the BMW 1 Series still stands out as one of the best SUVs on the roads of Kampala.
Click
here to buy a BMW 1 Series
in Uganda
Common Complaints Owners of BMW 1 Series raise while in Uganda
One of the major problems of the BMW 1 series is costly spare parts. In addition to that the is scarcity of the required technical expertise in Uganda that can help to fix the faults of the car.
Other alternatives available in Uganda similar to the BMW 1 Series
These can include the Volkswagen Golf, Ford Focus, and SEAT Leon
Click
here to buy a BMW 1 Series
in Uganda
Conclusion
The 1 Series has been awarded the maximum five-star rating in the Euro NCAP crash safety tests, ranking it among the best in class for crash protection. Its 91 per cent adult occupant and 83 per cent child occupant ratings are especially reassuring for family buyers. To me if you asked? It's worth your money.