Before you buy a Audi TT in Uganda
by Edwin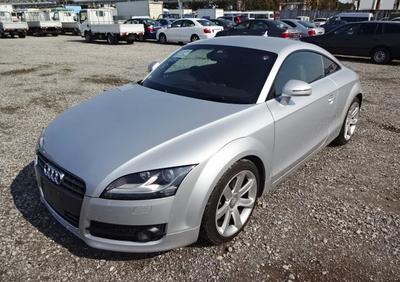 The Audi TT is a small 2-door sports car marketed by Volkswagen Group subsidiary Audi since 1998, assembled by the Audi subsidiary Audi Hungaria Motor Kft. in Gyor, Hungary, using body shells manufactured and painted at Audi's Ingolstadt plant. This changed with the third generation model that uses parts made entirely by the Hungarian factory.


Before you buy a Audi TT in Uganda
The Audi TT is into its third generation, and while it continues to deliver head-turning style, the latest car is more enjoyable to drive than ever. This is largely thanks to a weight-loss program that's been made possible by the car's construction around the modular MQB platform that underpins a wide range of VW Group products.
Of late Ugandan especially the youth and single lads have been found to buy the Audi TT. There is no doubt its unique and stylish something that young stars would want to have in car.
Click
here to buy or hire Audi TT and buy car spare parts
in Uganda
Buying a foreign used Audi TT from a local Ugandan car bond
There are a number of car bonds in Uganda specifically Kampala from which you can buy your Audi TT. However, you have to do good research in order to find a reputable car bond or dealer who will be able to provide you with the car that will meet your needs and above all genuinely imported into Uganda.
You need to look out for prices and discounts. Local car bonds may not charge the same prices for the same car. Prices of the Audi TT may be affected by mileage of the Audi TT, condition of the car, model, and year of manufacture.
Click
here to buy or hire Audi TT and buy car spare parts
in Uganda
Importing a foreign Used Audi TT from Japan or other parts of the world
In case if you prefer to import your own Audi TT from say Japan or from Europe, things change a bit. First it would require you to find a trusted dealer or seller in that regard, determine your specific car features and requirements, expected budget you plan to spend on buying the car and well calculated taxes to be paid to the tax authorities in order to clear Audi TT.
It is also very important to examine the car upon arrival to check and see if all the car components are included in the car as it was shown to you before buying it. You need to watch out for car spare tires, car jack, radio, navigation systems, window power buttons among other things.
The taxes charged by the Uganda Revenue Authority include Import Duty, Value added (VAT), Withholding Tax, Environmental Levy, Infrastructure Levy, and Registration Fees basing on the CIF of the Audi TT from Japan.
On arrival to Kampala, Uganda, you will have to clear the taxes at The Uganda Revenue Authority (URA), apply and pay for a number plate and then the third party license. You will also notice the some of these charges or fees differ from other vehicles.
Click
here to buy or hire Audi TT and buy car spare parts
in Uganda
General Audi TT reviews for Uganda
There's no mistaking an Audi TT for anything else. In common with iconic models like the Porsche 911 and MINI, the unique shape has evolved while remaining instantly recognizable. The original two-seater was a breath of fresh air, but the TT has grown from a curvy, cute car into a more rakish, sharply styled package for anyone who fancies style and power can have in Uganda.
Stunningly designed and beautifully executed, the interior is focused around Audi's superb Virtual Cockpit system. This 12.3-inch high-resolution LCD driver display replaces both the conventional dials and centre stack screen, allowing for a sleek minimalist dash design that's both sporty and up market.
Although Audi's sporty coupe majors on design, the sloping roofline makes it loses out on practicality. The TT is technically a 2+2, treat it as a two-seater only and it's surprisingly usable.
Up front it's perfectly roomy, with a good range of adjustment for the steering column and seats, while the long coupe doors mean large, practical storage bins. There's also a deep tray in front of the gearlever and a smaller space for mobile phones between the front seats.
Those back seats might make all the difference for family buyers trying to justify a TT, but they are pretty cramped; they're only really suitable for adults on very short, occasional journeys and are perhaps best left for small children.
Click
here to buy or hire Audi TT and buy car spare parts
in Uganda
Availability of Audi TT Spares parts in Uganda
You can get the spare parts for TT especially the older models. However for the latest models things could be a little tight. You may have to order the particular spare parts that you like from abroad.
Our Conclusion
The Audi TT has Hi-tech interior design, fun to drive and has a strong performance. There is no doubt its one of the best sports one should own.
Click
here to buy or hire Audi TT and buy car spare parts
in Uganda