Before you buy a 2015 Ford Everest in Uganda
by Edwin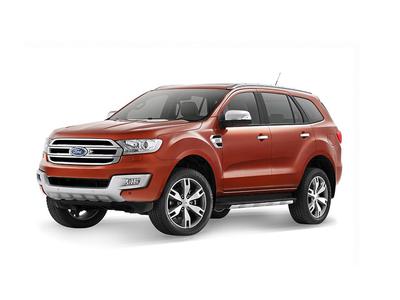 Say hello to what is potentially the best true SUV Ford has ever made, the 2015 Everest. Just try not to fall in love. The Ford Everest is strictly for China, Australia, New Zealand, India, and the southern parts of Africa. The Everest has actually been around for some time now, starting life in 2003. Like it's always been, the SUV is based on the global Ranger pickup truck platform.


Before you buy a 2015 Ford Everest in Uganda
Ford is making the Everest more competitive than ever, with, of course, its off-road capabilities, but also its on-road refinement and interior amenities. Included are such things as autonomous emergency braking, Lane Departure Warning, Lane Keeping Aid, Blind Spot Monitoring, Cross Traffic Alert, and Curve Control. That last part helps keep the top-heavy SUV right side up when entering a corner too hot.
Also present is Ford's Terrain Management System that includes settings for Normal, Snow/Gravel/Grass, and Sand and Rock. It adjusts the engine's throttle response, the transmission, traction control, and four-wheel-drive system. The part-time transfer case also includes a low range while the rear axle has an electronic-locking differential.
This makes it a highly capable SUV in Uganda when it comes off-road since most the roads are gravel and rock in nature. Needless to say, the Everest isn't joking around about its abilities.
Click
here to buy a Ford Everest or Ford spare parts
in Uganda
Buying a foreign used 2015 Ford Everest from a local Ugandan car bond
There are a number of car bonds in Uganda specifically Kampala from which you can buy your Everest. However, you have to do good research in order to find a reputable car bond or dealer who will be able to provide you with the car that will meet your needs and above all genuinely imported into Uganda.
You need to look out for prices and discounts. Local car bonds may not charge the same prices for the same car. Prices of the Everest may be affected by mileage, condition of the, model, and year of manufacture of the car.
Click
here to buy a Ford Everest or Ford spare parts
in Uganda
Importing a foreign Used 2015 Ford Everest from Japan or other parts of the world
In case if you prefer to import your own Ford Everest from say Japan or from Europe, things change a bit. First it would require you to find a trusted dealer or seller in that regard, determine your specific car features and requirements, expected budget you plan to spend on buying the car and well calculated taxes to be paid to the tax authorities in order to clear Ford Everest.
It is also very important to examine the car upon arrival to check and see if all the car components are included in the car you previewed before buying it. You need to watch out for car spare tires, car jack, radio, navigation systems, window buttons among other things as cars in transit are usually tampered with and some parts stolen.
The taxes charged by the Uganda Revenue Authority include Import Duty, Value added (VAT), Withholding Tax, Environmental Levy, Infrastructure Levy, and Registration Fees basing on the CIF of the Ford Everest from Japan or any other country the car might be imported from.
On arrival to Kampala, Uganda, you will have to clear the taxes at The Uganda Revenue Authority (URA), apply and pay for a number plate and then the third party license. You may also notice that some of these charges or fees differ from other vehicles.
General 2015 Ford Everest reviews for Uganda
Ford slathers the icing on the cake with two diesel engine choices; one being a 2.2-liter Duratorque four-cylinder and the other a 3.2-liter Duratorq five-cylinder. A 2.0-liter four-cylinder EcoBoost is offered as well.
The Exterior: The appearance of the Everest is ruggedly handsome. Tall ground clearance matched with meaty tires helps set the ground work while the front fascia gets its own skid plate-type design. A large chrome grille with matching chrome accents adds style to the entire body. A similar skid plate design resides out back, helping give the SUV a proper appearance.
All those looks are backed up by actual off-road versatility. It boasts an impressive 29-degree approach angle and a 25-degree departure angle with nearly nine inches of ground clearance and a fording depth of over 30 inches.
The Interior: "The driver's gauge cluster gets a center analog gauge with twin screen flanking either side."
Things inside are rather luxurious for such an off-road bruiser. Three rows of seating offer room for seven and the rear two rows fold flat for enlarging the cargo area. A down-to-business dashboard is accented by an eight-inch infotainment screen complete with Sync 2. The driver's gauge cluster gets a center analog gauge with twin screen flanking either side.
The center console is home to the Terrain Management knob, the gear selector, buttons for the traction control, locking differential, and four-wheel-drive low range. Two USB ports a AUX line-in port, and a SD card slot live in the front storage bin. Two 12-volt power ports keep other electronics charged.
The Suspension: The Everest uses an unconventional but highly effective Watts-link suspension stabilization bar to keep the rear axle from moving sideways. A four-link set up holds the axle fore and aft. Lastly, coil springs hold the Everest's rear up. Up front, a conventional coil-over shock system and double wishbone control arms keep things off the ground.
Click
here to buy a Ford Everest or Ford spare parts
in Uganda
Availability of 2015 Ford Everest parts in Uganda
The Ford Everest spare parts are available in Uganda. Ford has been around quite a while in Uganda hence a number of car dealers got interest in importing these spare parts into Uganda in order to meet the demand for the Ford owners in the country.
Direct competitors/alternatives of the 2015 Ford Everest you can find in Uganda
The Toyota 4Runner or commonly known as Toyota surf shares much of the same architecture design with the Everest; body-on-frame, independent front suspension, live solid axle out back, robust four-wheel-drive system, and a tall ground clearance.
Like the Toyota 4Runner, the Nissan Xterra is a rugged, body-on-frame SUV with four-wheel-drive, a solid rear axle, and a V-6 power plant. Unlike the 4Runner and Everest, the Xterra doesn't come with a third row, so passenger count is limited to five.
Click
here to buy a Ford Everest or Ford spare parts
in Uganda
Our Verdict
The Ford Everest is one heck of an SUV. It's got all the right parts and pedigree for the makings of a solid off-roader. While we commend Ford for continuing to build such a vehicle because happens to fit in well in Uganda's off-road conditions.