Before you buy a 2008 Renault Kerax dumper in Uganda
by Edwin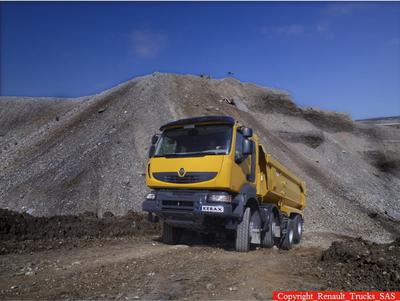 The Renault Kerax is a medium- and heavy-duty truck aimed at the construction industry manufactured by Renault Trucks and is available as a rigid or tractor configuration. It was originally launched in 1997 and underwent a full upgrade in 2006. The Kerax trucks for construction ended production in 2013 and they were replaced by the Renault Trucks C and K, which are powered with Euro 6 engines.


Before you buy a 2008 Renault Kerax dumper in Uganda

The Renault Kerax was developed to be able to operate under the most demanding working conditions. With a maximum payload of up to 30 tonnes for the heavy duty model, the rugged Kerax is one of the most capable trucks build by the French manufacturer. The truck features new drive axles and double reduction tandems which gives it astonishing performances for both on- and off-road missions.

Click here to buy or hire 2008 Renault Kerax dumper and buy car spare parts in Uganda


Buying a foreign used 2008 Renault Kerax dumper from a local Ugandan car bond

You can find car bonds in Uganda specifically within Kampala from which you can buy your 2008 Renault Kerax dumper. There also some car bonds that can avail you with strong hauling trucks in Uganda such as the 2008 Renault Kerax dumper.

However, you have to do good research in order to find a reputable car bond or dealer who will be able to provide you with the truck that will meet your needs and above all genuinely imported machinery into Uganda. You also to make sure that that the equipment has been thoroughly inspected, expertly repaired and backed by extended coverage options so that you're assured of the highest quality, productivity and availability.

You need to look out for prices and discounts. Local car bonds may not charge the same prices for the same truck. Prices of a 2008 Renault Kerax dumper may be affected by mileage of the truck, condition of the truck, model, and year of manufacture.

A 2008 Renault Kerax dumper in a good condition can have a price of around USD 70,000 that is approximately 250,000,000 Ushs or above depending on your dealer. So this will also imply that you have to do thorough research and find an amicable truck dealer to sell you one that is in good condition.

Click here to buy or hire 2008 Renault Kerax dumper and buy car spare parts in Uganda


Importing a foreign Used 2008 Renault Kerax dumper from Japan or other parts of the world

In case if you prefer to import your own 2007 Iveco Trakker dumper from say Japan, things change a bit. First it would require you to find a trusted dealer or seller in that regard, determine your specific car features and requirements, expected budget you plan to spend on buying the car and well calculated taxes to be paid to the tax authorities in order to clear 2008 Renault Kerax dumper.

Although 2008 Renault Kerax dumper are distributed and sold worldwide, they are mainly sold in Europe. You can get them in Britain, Germany and other countries within Europe. So in case you feel like importing one for yourself, at least those countries mentioned above shouldn't miss on your list.

It is also very important to examine the truck upon arrival to check and see if all the 2008 Renault Kerax dumper components are included in the 2008 Renault Kerax dumper it was shown to you before buying it.

The taxes charged by the Uganda Revenue Authority include Import Duty, Value added (VAT), Withholding Tax, Environmental Levy, Infrastructure Levy, and Registration Fees basing on the CIF of the 2008 Renault Kerax dumper.

On arrival to Kampala, Uganda, you will have to clear the taxes at The Uganda Revenue Authority (URA), apply and pay for a number plate and then the third party license.

Click here to buy or hire 2008 Renault Kerax dumper and buy car spare parts in Uganda


General 2008 Renault Kerax dumper reviews for Uganda

The vehicle is available in 3 cab configurations (Day, Global, Sleeper) and offers both manual and automated transmissions. To offer maximum versatility the truck is available in both tractor and rigid versions with different wheel bases and axels configurations (4x2, 4x4, 6x4, 6x6 and 8x4). Renault Kerax is particularly suited to activities in the construction sector such as earth moving, demolition or heavy equipment transport.

Looking at the design, the bumper features a heavy duty design while the rectangular light clusters are equipped with metallic protections which prevent them to be damaged. With up to 385 mm ground clearance under the front axle, the Kerax is the most raised truck in its segment.

Stepping into the interior, Due to the high ground clearance, you have to literally climb your way up into the cabin using the anti slip steps. Once inside you'll find the same wrap round dashboard design that can be found at both Magnum and Premium models.

The plastics are part of the hard class and look ready to endure some tough conditions without disappointing the driver. Even is the overall build quality isn't as great as other trucks in the segment, the fittings look also pretty solid.

The instrument cluster however, is among the best looking in the class and features a big round speedo flanked by three smaller gauges and a rectangular digital display which shows different vehicle information.

You won't complain about the ergonomy either as most of the controls, buttons and switches can be used without problems form the driver seats and they also have a logical layout.

The air adjustable suspended seats are pretty comfortable too, and they offer good back support. The good driving position is also assured by the adjustable steering wheel which features an ergonomic design and offers a good grip.

Click here to buy or hire 2008 Renault Kerax dumper and buy car spare parts in Uganda


Our Verdict

The Renault Kerax is strongly built and features a rugged character that comes at an affordable price. The high ground clearance and the capable engines gives it good off road abilities, while the wide range of axle configurations makes it perfectly suited for a large number of missions.