Before you buy a 2008 MACK Titan truck in Uganda
by Edwin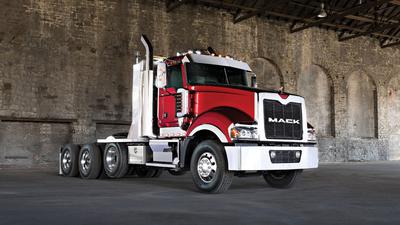 The Titan is the latest big rig launched by Mack and has made its debut in 2008. The truck was built for the toughest applications and is equipped with the powerful 6 cylinder MP10 which has a maximum output of 605 hp.


Before you buy a 2008 MACK Titan truck in Uganda
The Titan is one of the most reliable trucks from the market and its strong build quality and the imposing design suits perfectly to its rugged character. Thanks to its versatile nature, the Mack Titan is ideal for logging, oil field, heavy equipment and severe, heavy-haul applications. The Mack Titan has a starting price of $147.000 and is available in three trim levels including the Pedigree, Champion and the luxury Rawhide.
Click
here to buy or hire 2008 MACK Titan truck and buy truck spare parts
in Uganda
Buying a foreign used 2008 MACK Titan truck from a local Ugandan car bond
You can find car bonds in Uganda specifically within Kampala from which you can buy your 2008 Mack Titan. There also some car bonds that can avail you with strong hauling trucks in Uganda such as the 2008 Mack Titan.
However, you have to do good research in order to find a reputable car bond or dealer who will be able to provide you with the truck that will meet your needs and above all genuinely imported machinery into Uganda. You also to make sure that that the equipment has been thoroughly inspected, expertly repaired and backed by extended coverage options so that you're assured of the highest quality, productivity and availability.
You need to look out for prices and discounts. Local car bonds may not charge the same prices for the same truck. Prices of a 2008 Mack Titan may be affected by mileage of the truck, condition of the truck, model, and year of manufacture.
A 2008 Mack Titan in a good condition can have a price of around 250,000,000 Ushs or above depending on your dealer. So this will also imply that you have to do thorough research and find an amicable truck dealer to sell you one that is in good condition.
Click
here to buy or hire 2008 MACK Titan truck and buy truck spare parts
in Uganda
Importing a foreign Used 2008 MACK Titan truck from Japan or other parts of the world
In case if you prefer to import your own 2008 Mack Titan from say Japan, things change a bit. First it would require you to find a trusted dealer or seller in that regard, determine your specific car features and requirements, expected budget you plan to spend on buying the car and well calculated taxes to be paid to the tax authorities in order to clear 2008 Mack Titan.
Although 2008 Mack Titan are distributed and sold worldwide, they are mainly sold in Europe. You can get them in Britain, Germany and other countries within Europe. So in case you feel like importing one for yourself, at least those countries mentioned above shouldn't miss on your list.
It is also very important to examine the truck upon arrival to check and see if all the 2008 Mack Titan components are included in the 2008 Mack Titan it was shown to you before buying it.
The taxes charged by the Uganda Revenue Authority include Import Duty, Value added (VAT), Withholding Tax, Environmental Levy, Infrastructure Levy, and Registration Fees basing on the CIF of the 2008 Mack Titan.
On arrival to Kampala, Uganda, you will have to clear the taxes at The Uganda Revenue Authority (URA), apply and pay for a number plate and then the third party license.
Click
here to buy or hire 2008 MACK Titan truck and buy truck spare parts
in Uganda
General 2008 MACK Titan truck reviews for Uganda
We can say without exaggerating that the Mack Titan is one of the best looking models in its segment. The conventional cab configuration gives it a dominant stance which is enhanced by the chromed aggressive front grille. We also like the massive four-inch-wide chrome surround of the grille which further enhances the rugged design.
The grille is flanked by two rectangular headlights, fitted with LEXAN covers which are more resistant to impact than the conventional covers and permit easy accessibility for replacing bulbs. The standard round fogs lights are placed lower, under the grille, and together with the massive bumper they underline the utilitarian look of the truck. Moreover, the Mack Titan is also available with optional LED cab skirt lighting which adds a dose of dynamism to the entire truck.
The Mack Rawhide edition is offered with quad trumpet air horns mounted on the cab's roof and also with chrome, dual-vertical stacks with seven-inch Bullhorns.
The Titan has one of the most comfortable cabins in the segment especially in Rawhide version which comes with a classy button tuck trim. Needless to say, that there are acres of space inside and everything looks well put together. We also like the practical wraparound dashboard which is fitted with logically placed controls and is decorated with classy wood grain and brushed nickel.
The high-back seats are pretty comfortable and offer adequate back and tight support while they can also be adjusted according to your wishes. You'll also like the straight road visibility which is gorgeous thanks to the high, commanding driving position and the huge windshield.
One of our favorite elements is the two spoke steering wheel, which is one of the best looking units in its class. Apart from the modern design, we also like its relatively small dimensions which make it easy to use.
By pressing a foot pedal, the steering column can be adjusted to numerous positions offering you a comfortable driving position, increased belly room and improved visibility of all gauges. Talking about gauges, the instrument cluster is fitted with large, easy-to-read indicators and also comes with a central rectangular Co-pilot display which offers additional information about the vehicle and engine. The Co-Pilot display can be easy controlled by means of a four-button steering-column stalk. This system gives drivers 50 screens that feature real-time fuel economy and trip data, detailed maintenance and fault summaries, and supplemental sensor readings.
Looking at the ride and handling, for enhanced performances, Mack has reduced driveline angularity to a minimum level, which helps the truck to drastically reduce the NVH levels (noise, vibrations and harmonics). Thanks to this feature the truck's ride is quiet, smooth and fairly comfortable. Moreover, due to the horizontally mounted carriers, there is no vertical joint, thus significantly reducing axle lube leak paths.
When engineering the new Titan, Mack had also used axles with a conventional differential and a lockout device. The truck's drive axles can deal with loads of up to 44,000 lbs. and have tighter tolerances and fewer weld joints for greater reliability and longer life.
Click
here to buy or hire 2008 MACK Titan truck and buy truck spare parts
in Uganda
Our Verdict
The Titan's strong built quality makes it one of the most reliable trucks in its segment, while the comfortable Rawhide cabin is very close to the luxury level. The cabin ergonomy is also top notch, while the truck's MP10 engines are able to deal with the biggest payloads without thinking twice.
For a utilitarian vehicle, the Titan's ride is pretty comfortable and its strong axle and chassis can go head to head with the most demanding situations without baking down. Overall the truck is a brilliant piece of engineering and except its price it will be hard to find any other significant faults.