Before you buy a 2007 Iveco Stralis truck in Uganda
by Edwin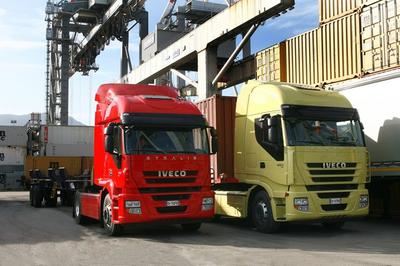 The Iveco Stralis is one of the most fuel efficient and cost efficient trucks in the 44 tones segment. The Stralis offers a wide range of models and can carry out many missions thanks to its versatile character.


Before you buy a 2007 Iveco Stralis truck in Uganda
The Iveco Stralis range includes 3 engines (by 8, 10 and 13 litres), 3 cabins (Active Day, Active Time, Active Space) and 3 heights (short roof, medium roof, and high roof). The AD is the smallest cab configuration while the AS high roof is the biggest and marks Iveco's entry into the premium 'big cab' market, offering one of the most spacious high roof cabs available in the 44 tones segment. The AT (Active Time) model is destined for the single driver missions and fills the niche of medium to long range distribution. The starting price of the Iveco Stralis is 76.000 euro (without VAT) and benefits from a comprehensive two year, unlimited mileage warranty.
Click
here to buy or hire 2007 Iveco Stralis truck and buy truck spare parts
in Uganda
Buying a foreign used 2007 Iveco Stralis truck from a local Ugandan car bond
You can find car bonds in Uganda specifically within Kampala from which you can buy your 2007 Iveco Stralis. There also some car bonds that can avail you with strong hauling trucks in Uganda such as the 2007 Iveco Stralis.
However, you have to do good research in order to find a reputable car bond or dealer who will be able to provide you with the truck that will meet your needs and above all genuinely imported machinery into Uganda. You also to make sure that that the equipment has been thoroughly inspected, expertly repaired and backed by extended coverage options so that you're assured of the highest quality, productivity and availability.
You need to look out for prices and discounts. Local car bonds may not charge the same prices for the same truck. Prices of a 2007 Iveco Stralis may be affected by mileage of the truck, condition of the truck, model, and year of manufacture.
A 2007 Iveco Stralis in a good condition can have a price of around USD 60,000 that is approximately 216,000,000 Ushs or above depending on your dealer. So this will also imply that you have to do thorough research and find an amicable truck dealer to sell you one that is in good condition.
Click
here to buy or hire 2007 Iveco Stralis truck and buy truck spare parts
in Uganda
Importing a foreign Used 2007 Iveco Stralis truck from Japan or other parts of the world
In case if you prefer to import your own 2007 Iveco Stralis from say Japan, things change a bit. First it would require you to find a trusted dealer or seller in that regard, determine your specific car features and requirements, expected budget you plan to spend on buying the car and well calculated taxes to be paid to the tax authorities in order to clear 2007 Iveco Stralis.
Although 2007 Iveco Stralis are distributed and sold worldwide, they are mainly sold in Europe. You can get them in Britain, Germany and other countries within Europe. So in case you feel like importing one for yourself, at least those countries mentioned above shouldn't miss on your list.
It is also very important to examine the truck upon arrival to check and see if all the 2007 Iveco Stralis components are included in the 2007 Iveco Stralis it was shown to you before buying it.
The taxes charged by the Uganda Revenue Authority include Import Duty, Value added (VAT), Withholding Tax, Environmental Levy, Infrastructure Levy, and Registration Fees basing on the CIF of the 2007 Iveco Stralis.
On arrival to Kampala, Uganda, you will have to clear the taxes at The Uganda Revenue Authority (URA), apply and pay for a number plate and then the third party license.
Click
here to buy or hire 2007 Iveco Stralis truck and buy truck spare parts
in Uganda
General 2007 Iveco Stralis truck reviews for Uganda
Taking a peak into the interior. As we mentioned before, the Iveco Stralis is available in three different types of cabin. The Stralis Active Day (AD) is equipped with low roof short cabin, suitable for medium-range which does not require overnight stays. The Stralis Active Time (AT) is used for medium and long distances, national or international, with low or high roof long cabin. The Stralis Active Space (AS) is the top of the range and offers the most spacious cab.
Access inside is made by means of three ergonomically placed steps. The Stralis driver air seats are among the most comfortable in the segment and the driving position is also good offering a great view of the road ahead. Both the driver seat and the steering wheel can be adjusted, so it will be easy to find a proper driving position. We also like the instrument cluster display as it's easy to read and clear.
Compared with the previous generation, the dash has changed slightly from its semi wrap-around configuration, but is still ergonomic and looks good, despite the cluttered area of buttons and switches.
Unlike other trucks which use molded interiors, Iveco's fit and finish is very nicely done without any disturbing squeaks.
All three cabin versions are fairly comfortable and especially the AS model, has acres of space with plenty of room to stand up straight on the low centre engine cover.
About the ride and handling, the Iveco Stralis can be equipped with several types of suspension, including the full bump air suspensions. Both front and rear axles are equipped with anti-roll bars and shock absorbers while the middle wheels can be lifted using pneumatic assistance. Thankfully the suspension never feels over stressed and offers a pleasant ride.
Whether you are driving in a straight line or on windy roads the Stralis has a good road stance and the light and responsive steering does a good job in dealing with quick lane changes or tight corners. The rear-steering axle makes it more agile than any truck from the market and also gives it an impressive turning circle.
Iveco is famous for its robust chassis, and Stralis chassis is no exception. The side members, with double bottleneck with U section connected by nailed crossbars, are made with a special type of steel Fe E 490 with high yield level and with thickness between 6.7 mm to 7.7 mm.
All versions come equipped with all-around-disc brakes and ESP and EBS electronic control. Other safety features include Hill Holder, Adaptive Cruise Control and Lane departure Warning system.
Click
here to buy or hire 2007 Iveco Stralis truck and buy truck spare parts
in Uganda
Our Conclusion
The previous Stralis needed a lot of time to convince the truckers about its value and not many models broke into the fleets. Luckily, Iveco learned its lessons and the new generation Stralis received a lot of useful upgrades, and won its place among the best trucks in the 44 tones segment. The cabin has anything it needs to offer a comfortable ride and even if the interior design can't be compared with models like the Mercedes Actors or Renault Magnum it's still very practical, has an ergonomic layout and a good build quality. We especially love the sporty seats which are among the best in the business and the folding upper bed from the Stralis AS High Roof model.