Bafore you Buy a DAIHATSU TERIOS KID Car in Uganda
by Edwin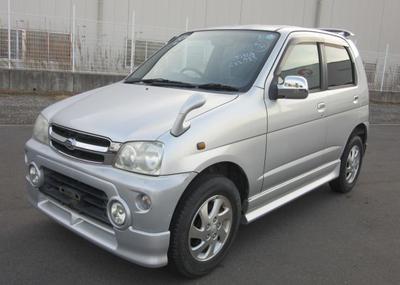 Daihatsu Terios Kid
The Daihatsu Terios is a mini SUV, first released in 1997 by the Japanese car manufacturer Daihatsu.

The engines are a modified Daihatsu Charade 1.3-litre or kei car 660 cc unit, with constant four wheel drive (4WD) or two wheel drive (2WD), respectively.

It has a five-speed manual transmission or a four-speed automatic transmission


Before you buy a Daihatsu Terios in Uganda
Daihatsu Motor Co., Ltd. is the oldest Japanese manufacturer of cars, known mostly for its smaller models and off-road vehicles.
The company is currently the subsidiary company of Toyota Motor Corporation.
Both Daihatsu and Toyota produce a few identical models such as Daihatsu Terios and Toyota Cami.
Such deals are called an OEM (original equipment manufacturer) agreement in the auto industry.
In Uganda, the Terios has become common especially among single ladies or those who are not yet married yet.
Even those schooling in colleges find this an amicable car due its vitality, easy to pack and low fuel consumption level.
Click
here to buy a Daihatsu Terios
in Uganda
Buying a Daihatsu Terios Ugandan car bond
Buying a Daihatsu Terios from a Ugandan Car bond can cost up to 25 million Uganda shillings for a recent year of manufacture and latest model.
However, prices can vary depending on the year the condition of the truck. For those that have been used in Uganda for some time can cost around 11 million Ugandan shillings.
Importing a used Daihatsu Terios from Japan
In case you're to buy a Used Daihatsu Terios from Japan you may have to pay averagely about $ 700 – $2,000 and more depending on the condition of the car, model, car dealer you use and year of manufacture.
However, the quoted price typically does not include Freight to Mombasa port and transportation from Mombasa port to Uganda.
Additionally, it excludes taxes charged by the Uganda Revenue Authority which include Import Duty, Value added (VAT), Withholding Tax, Environmental Levy, Infrastructure Levy, and Registration Fees. These costs may end up increasing your final cost of Daihatsu Terios.
Common Problems Owners of Daihatsu Terios face while in Uganda
Apart from the common and minor problems like suspension bushes, shock absorbers, the Daihatsu Terios has other problems, for example, Engine misfiring which could be due to coil pack failure, rear washer jet failure which could be a cause of blockage in the tube, engine management warning light possibly caused due to faulty lambda sensor.
This can also cause a slight increase in fuel consumption and/or a lack of power, when you try to accelerate.
Also with just one engine on offer, customers don't really have a choice even if they'd like a bigger unit under the hood.
Click
here to buy a Daihatsu Terios
in Uganda
Reasons as to why Ugandans buy the Daihatsu Terios
This is a mini SUV. Its consumption is low, easy to drive around town and last but not least its suitable for single ladies especially university goers.
It is also spacious enough for a small family who wish to tread into SUV territory.
Other alternatives available in Uganda similar to the Daihatsu Terios
We have the Toyota Rush, Ssang Yong and Chevrolet
Briefly about the interior of a Daihatsu Terios
Sticking to the bare essentials, the Daihatsu Terios features a simplistic dashboard that comprises of a fair bit of hard plastics and doesn't exactly fall into the 'modern category'.
With a high mounted radio unit and rotary A/C controls being the most technologically advanced features in the vehicle, it does come off as slightly archaic compared to its rivals who deal with touch screen infotainment systems and the works.
Click
here to buy a Daihatsu Terios
in Uganda
My final thoughts about the Daihatsu Terios
If you are looking for simplicity, economy in a mini SUV, then you can't ignore the Daihatsu Terios on your list of cars to buy.