Apple walnut strudel Pasty with Vanilla Recipe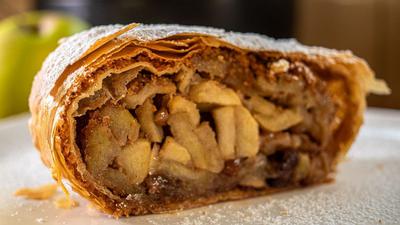 Apple Strudel Vanilla Pasty
How to make Apple Walnut Strudel Pasty with Vanilla

This Puff Pastry Walnut Apple Strudel is made with a Walnut Raisin Apple filling and doesn't get a soggy bottom.

Prep time: 20 min
Cook time: 50 min
Total time: 1 Hrs 10 min


Ingredients
1/2 cup raisins
2 medium apples
1/4 cup + 1 tsp sugar
1/2 tsp vanilla extract
1/3 cup walnuts, coarsely chopped
1/3 cup graham cracker crumbs, or other digestive biscuits
1 tsp rum
1 tsp cinnamon
2.5 tbsp butter
1 sheet puff pastry
1 lime
1 egg
Instructions
Preheat the oven to 360F (180C) with the baking sheet inside.
Peel and core the apples. Cut them into quarters and thinly slice them.
Combine the apple slices, 1/4 cup sugar, rum, lime juice, chopped walnuts, vanilla extract, and raisins in a small bowl.
Melt the butter in a small pan over low heat. Add the graham cracker crumbs, cinnamon, and 1 tbsp sugar. Increase the temperature to a medium heat and toast the mixture for 1 minute.
Add half of the graham cracker crumbs mixture to the apple slices.
Sprinkle flour on your work surface. Unfold the puff pastry sheet and roll the pastry sheet into a 16 x 12-inch rectangle. With the long side facing you, spread the rest of the graham cracker crumb mixture evenly onto the middle third of the puff pastry sheet. Leave 1.5 inches of the side empty.
Spoon the apple mixture onto the crumbs and fold the lower half over the apple mixture. Then fold over the top half and tuck it under to seal the roll. Also, tuck the ends under to seal.
Brush the pastry with the egg mixture and cut several slits in the top of the pastry.
Transfer the apple strudel to the hot baking sheet in the oven and bake for 40-50 minutes until the apple strudel is golden brown.
Serve warm with whipped cream, vanilla sauce, or vanilla ice cream. You can also sprinkle it with powdered sugar.