Apple cinnamon vanilla French toast Recipe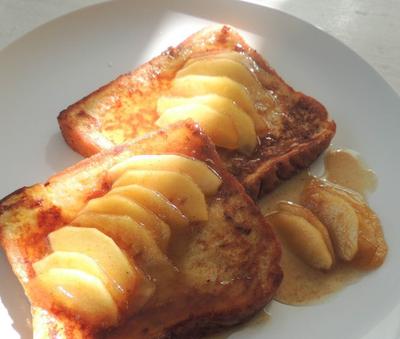 Apple Cinnamon Vanilla French Toast
How to make Apple Cinnamon Vanilla French Toast

Yield: 4


Ingredients
12 oz french bread, a day old (285 g)
2 granny smith apples, peeled
1 cup brown sugar (220 g)
2 teaspoons cornstarch
6 eggs
2 cups milk (475 mL)
1 teaspoon vanilla
1 teaspoon cinnamon
¼ cup maple syrup (55 g)
powdered sugar, to taste
whipped cream, to taste
Directions
Cut the bread into 1-inch (2 ½ cm) cubes.
Dice peeled apples into small bite-size pieces.
Preheat the oven to 350˚F (180˚C).
In a medium bowl, mix together the bread, apples, sugar, and cornstarch.
In a separate bowl, whisk together the eggs, milk, vanilla, and cinnamon.
Pour egg mixture into the bread bowl.
Give the ingredients a good stir, then pour into a 9x13-inch (33 cm X 23 cm) greased baking tray.
Drizzle with maple syrup.
Bake for 45 minutes or until golden brown.
Enjoy!