Anacardium occidentale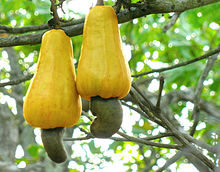 Photo/appearance
Anacardium occidentale in Uganda
Cashew Nuts
What you can use the plant for:
You can use plant's Fruit for juice, liqueur, jam, or wine; the Resin is used for medicine; the nut shell oil for manufacturing varnish, inks, tiles, and brake linings. You can inter-crop the Cashew nuts with mangoes, bananas, coconuts, and citrus.
Cashew nuts are a popular snack and food source. Cashews, unlike other oily tree nuts, contain starch to about 10% of their weight. This makes them more effective than other nuts in thickening water-based dishes such as soups, meat stews, and some Indian milk-based desserts. Many southeast Asian and south Asian cuisines use cashews for this unusual characteristic, rather than other nuts.
The shell of the cashew nut is toxic, which is why the shell is removed before it is sold to consumers.
To buy this plant or its products click here.
Plant species Name(s)
Anacardium occidentale
Cashew nut
Plant Local name(s)
Where to find this Plant in Uganda
The Cashew nut was introduced in Masindi, Kumi, soroti & drier districts of Uganda.
The tree is large and evergreen, growing to 10-12m (~32 ft) tall, with a short, often irregularly shaped trunk. The leaves are spirally arranged, leathery textured, elliptic to obovate, 4 to 22 cm long and 2 to 15 cm broad, with smooth margins. The flowers are produced in a panicle or corymb up to 26 cm long, each flower is small, pale green at first, then turning reddish, with five slender, acute petals 7 to 15 mm long.
To buy this plant or its products click here.