Amish Vanilla Pie Recipe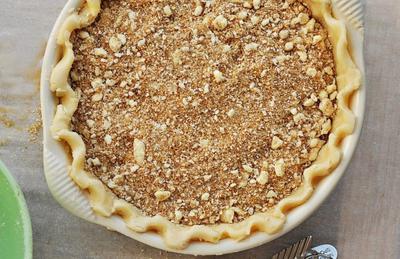 Amish Vanilla Pie
How to make Amish Vanilla Pie Recipe

This old fashioned recipe is rich and delicious. I make it for holidays. You can still find this pie at Amish restaurants and markets in Shipshewana, Indiana, made by local women.

The combination of molasses, white sugar, and brown sugar makes it milder in flavor (and not as dark) as their traditional Shoo Fly Pie. Its heavy on vanilla which also adds a great flavor.


Ingredients
1 c sugar
4 Tbsp all purpose flour
1 large egg, beaten
1 c molasses
2 c water
2 tsp vanilla extract
2 c all purpose flour
1 c brown sugar, firmly packed
1 tsp baking soda
1 tsp cream of tartar
1/4 c butter
1/4 c lard or shortening
2 (9 inch) unbaked pie shells
Directions
Preheat oven to 350 degrees.
In a saucepan combine sugar, 4 tablespoons flour, egg, molasses, water, and vanilla. Bring to a full, rolling boil, stirring constantly. Remove from heat and set aside to cool.
In a large bowl combine 2 cups flour, brown sugar, baking soda, cream of tartar, butter, and shortening or lard. Rub this mixture together to make crumbs.
Pour half of the cooked mixture into each pie shell. Cover each with half of the crumbs.
Bake at 350 degrees for 40-45 minutes. Cool and serve with ice cream.